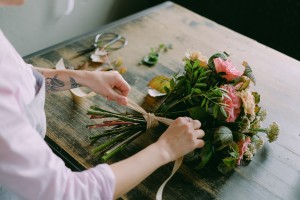 We know there are a lot of decisions to make, arrangements to organize and people to manage in order to make your wedding day memorable for all the right reasons.
You might be considering which venue to choose? How many guests to invite? What colour scheme suits us? What should we wear? Who's going to do the catering? The flowers? The photos? How much to spend?
To create an event that's relaxed and remembered rather than stressful and overwhelming takes a little preparation and information. It doesn't need to be daunting.
To help you get started, here are our five wedding prep tips.
Decide what's important to you
Take inspiration where you can, but be sure to make your wedding your own rather than a carbon copy of something you've seen someone else do. And don't ever feel like you need to include something in your wedding day just because it's always been done that way. Make decisions based on what's important to you as a couple when deciding on how your dream wedding will look.
Choose suppliers who understand you
When it comes to choosing suppliers for your wedding, be guided by what you see. Make time to meet suppliers, get to know their style and the way they work, talk to others who may have worked with them in the past. And pick those suppliers and vendors whose style complements your own so together you can create a truly exceptional wedding.
Fix your budget at the start
Trying to plan a wedding without any idea of how much you have to spend, is a bit like heading out on an unknown journey without a map. Setting a budget for your wedding should be one of the first things you do. It will help you stay focused on the important elements in your wedding. From your budget, you can work out what type of venue, catering, dress style, and guest numbers you can realistically afford to include.
Book your celebrant first
As one of the most important parts of your wedding day preparation, it makes sense to book your wedding celebrant first. At Celebrants Aotearoa, we believe that wedding celebrants not only perform the perfect wedding ceremony, but also help create a lifetime of memories of your special day. Find a Celebrants Aotearoa celebrant here. Then book in a time to meet with your wedding celebrant to discuss your wishes for your dream wedding.
A personal and memorable day
Personalise your wedding ceremony and create special memories with family and friends. Include some of these symbolic rituals in your wedding day, or incorporate those wedding trends that fit your style.
If you'd like to talk to a wedding celebrant who can create exactly the ceremony you want, start with Celebrants Aotearoa.