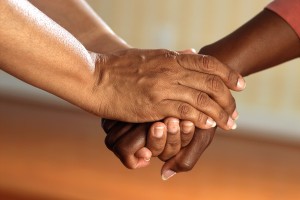 Wedding rituals have long been a part of the marriage ceremony and are often used to signify the love a couple has for each other and the commitment they are about to make. The roots of these rituals are steeped in history and tradition, both religious and secular; for example, the exchange of marriage vows, presentation of rings or other symbolic items, and a public proclamation of marriage by an authority figure or celebrant.
While publicly declaring their binding love for each other, some couples choose to include symbolic rituals within the traditional wedding ceremony. Things like lighting a unity candle, a ring warming ritual, or handfasting, are ways for couples to personalise their ceremony with rituals that signify love, romance and unity.
Here are five of our favourite symbolic rituals that you may like to include in your wedding ceremony.
Ring Warming
A beautiful ritual that begins with the wedding rings being passed around to each of the guests. On their journey, each guest is given a chance to hold the rings for a moment and "warm" them with their love and best wishes before passing them on. By the time the rings are exchanged by the couple, it's thought that each ring will be suffused with the love and affection of all those attending the ceremony.
Unity Candle Ceremony
A simple ceremony that holds such powerful visual symbolism: the unity candle ceremony involves two taper candles, representing the couple, which are used to light a third, larger candle, representing the joining of their two lives. The larger candle is often relit on each anniversary to honour the love and commitment you continue to share.
Sand Ceremony
Similar to the unity candle ceremony, for the sand ritual, couples pour out separate containers containing coloured sand, allowing the two sands to mix, symbolising the blending of their lives together.
Handfasting
This ancient, traditional ritual is thought to have originated as a pagan Celtic ceremony between two people for a fixed period of one year and one day. It's in this ceremony that the saying, "tying the knot" came about, as the hands of the bride and groom were bound together with a rope, ribbon or cord.
Today, handfasting is often used as a symbolic act during a wedding ceremony, where couples cross over their hands and guests are invited to tie coloured ribbons around their hands, symbolising the joining together of their lives.
Stone Ritual
Each guest is invited to take a blessing stone as they arrive. Stones are chosen especially as symbols of steadfast love, good wishes, and heartfelt blessings. By holding the stones during the ceremony, guests share their love and blessings for the couple, and stones may be placed in a commemorative container at the end of the day as a keepsake for the couple.
However you choose to personalise your wedding ceremony and symbolise your union and love for each other, contact a Celebrants Aotearoa celebrant who can help you plan a bespoke ceremony that allows you to incorporate your personality and style to create a day that is truly unique.