Celebrants Aotearoa National Conference 2022
SAVE THE DATE!
---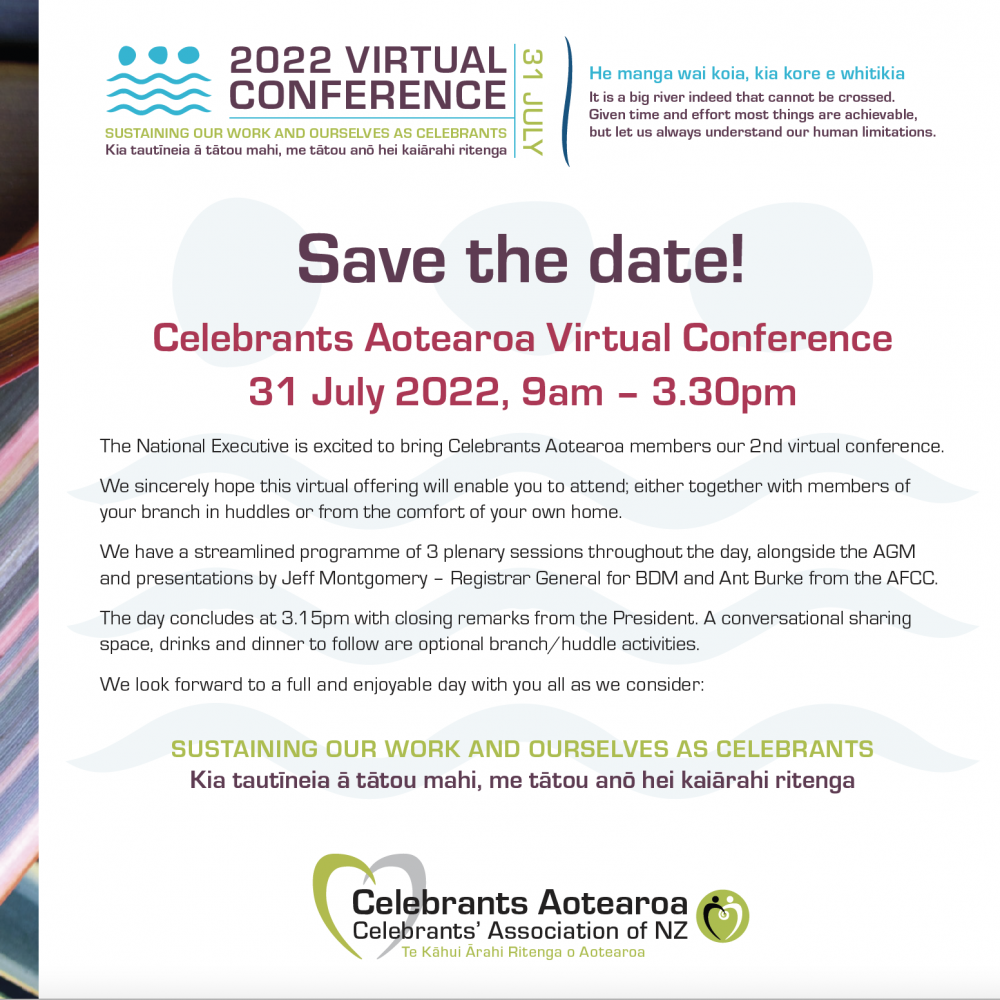 Celebrants Aotearoa Virtual Conference 2022 will be held 31 July, 2022.
The 2022 Celebrants Aotearoa Virtual Conference will be held from 9am to 3.30pm on the 31st of July, 2022.
Early Bird Tickets (best value!) are sale the 26th of April, 2022, and will be available until the end the end of May.
Standard tickets are available throughout the month of June.
Late tickets are available in the month of July. Ticket sales end on 24th of July. This is the last day you may purchase a ticket!
Tickets may be purchased at our Humanitix Event page, or by using the widget below.
Do you have clash of dates? Can't attend this conference on the day?
Good news - if you purchase a 'Lounge Lizard' ticket you will be sent access to a FULL recording of the day post-conference.
So don't miss out, buy your ticket as tickets are available. You may then enjoy viewing the full conference recording as your schedule allows.
IMPORTANT NOTES:
This recording viewing opportunity will only be available for

3 weeks post-conference

.
This recording will be available to all conference attendees, so if you have to miss the day for any reason, we have you covered.

Master of Ceremonies - Pinky Agnew
Writer, actor, MC, speaker & celebrant
Since becoming a celebrant, Pinky has published two collections of readings for ceremonies. In 2004 she became a Member of the New Zealand Order of Merit (MNZM).
---
Keynote speaker - Dr. Hetty Rodenburg
The art of communication: navigating difficult conversations
Dr. Hetty Rodenburg graduated from Leyden University, Holland. After working in Holland and the USA she arrived in New Zealand in 1971.
She practiced as a General Practitioner until 1998. During that time she developed an interest in grief counselling, the effects of trauma on psychological, physical and spiritual health and 'working' with terminally ill patients.
Over the years Hetty has given numerous presentations on these topics. She worked and trained with Dr. Elisabeth Kubler-Ross and facilitated Kubler-Ross's workshops in New Zealand and overseas until 2001.
At present she is in private practice and involved with grief counselling, professional supervision, and the emotional and spiritual care of people diagnosed with life threatening illness.
She is frequently invited to give presentations and group-interactive teaching in New Zealand and overseas.
---
Plenary speakers - Gaylene Denford-Wood
Embodying mindfulness through the creativity of Seminaria
A fifth generation, South Island Kiwi, I was born the year tea, sugar and meat rationing was abolished and farm-raised as post-war life improved, especially for women. I've married, raised children, pioneered a school, a new degree at AUT, and now (similar to celebrants), I strive to serve with the power of words!
---
Plenary speakers - Tricia Hendry
Ways to support yourself as you support others – using professional self-care as a strategic resilience tool
Tricia is a published writer, educator, consultant, and presenter specialising in issues of grief and trauma, professional self-care, mental health & wellbeing, and resilience. She has lived experience of loss and trauma herself and understands the complexity and challenge unwanted life changes bring. Formerly Deputy Chief Executive of the national support agency Skylight, Tricia currently works on resource, education, and policy projects for a range of government agencies and NGOs. She is also a qualified professional supervisor of front line professionals.
---
Session speakers - Jeff Montgomery
Update from BDM
Jeff is New Zealand's Registrar-General of BDM and Citizenship. He leads a team of almost 500 staff providing life event and identity services to all New Zealanders and those wishing to be a New Zealander.
---
Session speakers - Ant Burke
Australian Federation of Civil Celebrants
Learning from the challenges of COVID – the experience for Australian celebrants
Anthony Burke, also known as Ant, is a highly sought Celebrant, Motivational Speaker, MC, and Business Coach from the beautiful Hunter Valley in Australia. He is the National President of Australia's largest celebrant association, elected Councillor for Cessnock City Council, and someone who is passionate in creating opportunities for others. He brings a light-hearted touch and an
ability to inspire and motivate, his motto: "Be you because everyone else is taken."
Ant is a father to two boys, Kyan and Harlen, and lives a life full of kindness, love, family and friends.
There are two options for seeing the Conference - either in the comfort of your own home on ZOOM with a "lounge lizard" ticket (available to anyone who wishes to join), or for those who have "branch huddles" available to them, you can watch together with others in a group.
Branch huddles are available throughout the country, and you may join your local branch at the following locations:
Wellington Branch - The conference will be hosted (as it was last year) from the Lychgate Chapel in Johnsonville and Wellington members will be able to join with us in person.
Auckland Branch - in Auckland.
Bay of Plenty Branch - TWO OPTIONS - in Tauranga OR Whakatane.
Hawkes Bay - in Hastings.
Canterbury Branch - in Christchurch.
Southern Branch - TWO OPTIONS - in Wanaka OR Dunedin.
If you are local to Wellington, this is where our virtual event is being hosted live. Attend the Wellington Huddle to see all the presenters live.
All huddles are organised on a Branch level and communications about their event location and details will be sorted individually by branch. Communications on locations will come from the Branch host.
We encourage you to join the official branch huddles, as time and energy has been put into making these nice for you.
That said, if you wish to gather an unofficial huddle, it is very important all members of your huddle have a Virtual Conference ticket. To check this status of your huddle guests, please contact events@celebrantsaotearoa.co.nz to be sure the names on your list are ticket holders. Having us aware of the main point of contact for your branch will help us make sure your gathering goes as smoothly as possible.
Note that unofficial huddles will not receive extra funds to help cover food and location costs.
YES!
Those with free Zoom accounts may have received some notices recently about their accounts being limited to 40 minute meetings if hosting this coming July. However, because it is Celebrants Aotearoa that is hosting this Zoom event, your free account limits won't impact your ability to join the entire day of the event.
You will still have access to the full day and the full recording after the event end.