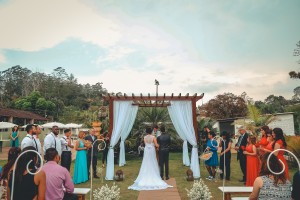 Wondering when the best time is to get married? Can't decide between a summer or a winter wedding? Here at CANZ, we think any time of the year is the perfect time for a wedding! And our celebrants are ready to work with you, no matter what time of the year it is. So, don't let the weather hold you back. We've outlined the pros and cons of a winter wedding versus a summer wedding to help you choose the best time for your wedding.
A Winter Wedding
Pros:
Beautiful backdrops – if you're lucky enough to plan a wedding in a snowy location, you'll be blessed with romantic scenery and stunning photographic opportunities.
More options and more discounts – in the winter months, there may be more opportunity to secure your preferred venue and wedding date. Most venues typically fill up in the summer months and often come with a higher price tag then too.
Cheaper travel and accommodation costs – take advantage of off-peak or low season winter rates for travel and accommodation for wedding guests.
• Stunning photography – those snow-filled winter wedding photos are just as impactful as the sun-drenched summery pics.
Cons:
Unpredictable weather – It's never a good idea to rely on what the weather will do as winter can be particularly changeable.
Difficult conditions - The weather may cause havoc with suppliers trying to get to you, and those seasonal flowers you wanted may not be available throughout the year.
Indoors only – planning an alfresco wedding in winter is always a risk and might not be a realistic option for this time of year.
Wedding outfits – in winter, you may need to plan for a warmer wedding outfit which could put the stops on that summery number.
A Summer Wedding
Pros:
Make the most of the outdoors – the warmer weather is the perfect time for an outdoor wedding. And that could mean more choice when it comes to a venue, and not having to rely on a paid venue – think back garden wedding, paddock or botanic gardens.
The days are long - longer summer days means more flexibility in scheduling your ceremony time. And those long summer nights make for more time for celebrating!
Perfect photography – sunshine and blue skies do wonders to lift your wedding photos.
Cons:
Summer doesn't mean no rain – just like winter, summer can be unpredictable and it's not uncommon for summer rain showers to break up an afternoon of glorious sun and put a damper on an outdoor wedding.
Willing to compromise – summer is one of the most popular times to be wed, and it could mean you have to change your date or venue to fit in with what's available.
Summer holiday plans could interfere – and mean you have less guests attending your wedding if they already have plans for their own holidays.
Whenever you choose to get married, make sure your ceremony is officiated by a CANZ Celebrant. Members of the Celebrants Association who perform weddings are more likely to be experienced; they undertake ongoing professional development and many have been through a celebrant specific training program.
Through the association, we are constantly updated with any changes in the legal requirements of a ceremony and are aware of trends in the industry. Most importantly, we listen and we create a bespoke ceremony that will reflect you as a couple.