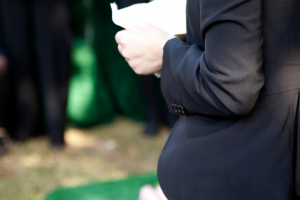 There is no right or wrong way on how to write a eulogy for a loved one or a close friend. A eulogy is hard enough to write without having to focus on the correct way of writing it.
However, when you are asked to give a eulogy, during a time of loss, it can seem like a bit of a daunting task. It is the speech none of us want to make. With some guidance, we hope to remove some of the overwhelm so you can celebrate your loved one the way they would have wanted to be celebrated.
What is a eulogy?
A eulogy, which is often called a Tribute, is an opportunity to commemorate a loved one who has died. It is a moment to share a balanced and honest tribute about the loved one's life, the wonderful impact they made on people's lives and the love everybody had for them.
But, it is much more than that. It gathers family and friends to recall the times spent together.
As you are recalling their life with the family, moments and tears will be shared, helping the family to start healing from the loss. For some family members, news of the death will still be raw, and they will be fragile. This impacts their recall, so you will need your best 'listening' and 'observing' skills.
And when you stand before them, giving the eulogy, you will see the tears fall as you help them reflect and celebrate the wonderful life they shared with their loved one.
What should you include in your eulogy?
At a funeral, sometimes just one person may give a eulogy or tribute, or a couple of people may be asked to talk. If there is more than one person speaking, it is a good idea to find out what they will be talking about to avoid repetition.
Here are a few topics you could include:
An overview of the significant events in their life, such as schools, college, marriage, kids, jobs, achievements and other big milestones in their life.
The wonderful character traits that everyone admired about them.

The relationship and memories they had with their families and friends.

What they loved doing and what interests they had.

What they strongly believed in and the values they had.

Their favourite saying, poems, books or shows.
The research is worth it
Research their past in various ways as you might just learn more about the person than you ever realised.
Ask family and friends to share their favourite memories.

Look through old photo albums to help find memories from their childhood and past.

Speak to the partner, siblings or children of the loved one to see if there are any special moments that they want to be included in the eulogy.
Put it in order
Once you have gathered all the memories, organise them so you can create a vivid snapshot of their life. Make it logical and easy to follow.
If you are unfamiliar with public speaking, break it down into headings, so if you lose track, you can easily find where you left off.
It is important to write your eulogy in spoken language, how you want to actually say it. This is quite different from written language. It is easier to read typed text in a big font (14pt) with spacing between the lines. Get someone to help if you don't have a laptop and printer.
Some people use their mobile phones to read or a tablet. Be cautious in this, a mobile phone is a very small screen. Have a printed-out copy just in case.
Read it out aloud
Once you have written it, practice it by reading it out aloud. Ask yourself, 'does this sound right?'. Reading aloud also gives you a chance to read through the moments that are likely to be emotional and bring tears. Allow it. It will prepare you for the day of the funeral.
Reading aloud also allows you to edit your eulogy and fine-tune it. It also helps if you read it to a loved one to see if there are any changes you can make.
Just remember, that there is no right or wrong way of writing a eulogy, so trust your gut.
Giving your eulogy
On the day, have a copy of the eulogy and give another to the celebrant. Discuss with them how they can support you if you find it becoming too difficult to continue. Agree on a signal between the two of you (looking directly at them?) and the celebrant will come and stand beside you and continue on your behalf. Or similarly you can have another family member on standby.
When you get up to read. Don't rush. Focus on a loved one to help calm your nerves. Greet everyone, breathe deeply, and then start. If you lose your way, pause, breathe, and look for your heading; it is quite normal under these sad circumstances.
And finally, remember to stop and relish the moments you spent with your loved one. It is a time to celebrate their life.
Celebrant Aoteraoa Funeral Celebrants
Celebrant Aoteraoa Funeral Celebrants can create and conduct a service that reflects your family's wishes. They will listen deeply with empathy during a time of loss and make helpful suggestions. CANZ funeral celebrants are independent, and in most instances, can provide a secular or spiritual/faith blended service. They are professional, experienced and abide by a code of ethics.
Find a CANZ Celebrant here to help you with the ceremony.