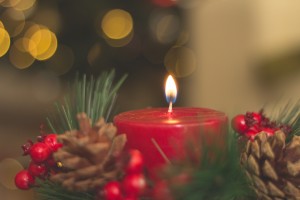 As we near closer to the festive season, grief can become more prominent for those of us who are without loved ones, making Christmas time more difficult to handle.
Christmas is often a time where family and friends gather together, so if anyone is missing from your life, their absence is often more strongly felt.
We spoke to some of our celebrants and asked for their tips on how you can honour and remember your loved ones this Christmas.
Create Decorations In Their Honour
It could be a candle, a wreath or even a personalised ornament for the tree. Whatever it is, create a decoration to honour your loved one to display around your home.
Follow Family Traditions
You could continue to make their favourite recipe on Christmas day, or continue to sit in their favourite place on Christmas eve – however you remember celebrating Christmas with them, continue to do and make this a tradition every year.
A Christmas Cheers
A simple 'cheers' for loved ones missing can be a really special way to honour those who are absent. A cheers before you eat, is quick, simple and easy to replicate each year and is a great way to honour those missing, without making it a 'big deal' when emotions are already heightened.
Lay a Place At The Table
When setting the table for everyone to eat, lay out a place for your loved one and light a candle to brightly burn in their place.
Share Memories & Look At Old Photos
Instead of leaving it unspoken, consider making time to sit together and share your favourite memories. Look at old photos, and reminisce on the good times with your loved ones around you.
Christmas time without a loved one can be really hard. Remember to be kind to yourself, express your feelings and ask for extra support if and when you need it. Allow yourself time to heal, time to remember and time to make traditions in their honour.
If you feel the grief is too much, reach out to a professional who can offer guidance and support.
If you are looking for a funeral celebrant, we have close to 1000 celebrants nationwide who are here to support you, and create a beautiful funeral to honour your loved one. Click here to Find a Celebrant now.