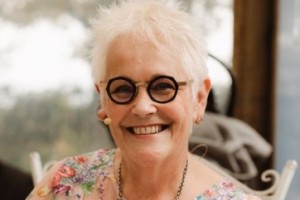 A day in the life of Jann Hook
How long have you been a celebrant for?
I began my Marriage Celebrant journey in 2008, with my first wedding in the December, then sadly, only several months, later I commenced my Funeral Celebrant journey- officiating for the groom of the first couple I had married. Over the last 5 years I have become a Death Care Advocate for our Farewell Trust, here in the Marlborough Sounds, providing palliative and end of life care for Sounds residents who wish to remain at home to die. I became a VCANZ Celebrant right at the start of the VCANZ process.
Why did you become a celebrant?
For me, the reasons for becoming a celebrant were many and varied… I could see a need for more vibrant celebrants in our region- both in the wedding and the funeral industry. I lived in a beautiful location in the Marlborough Sounds that hosted lots of weddings. I loved working with couples to create bespoke ceremonies that truly reflected them as a couple.
What involvement do you have or had with CANZ at a branch or national level?
The first thing I did when I became a celebrant was to immediately join CANZ. Within the next few months, I had attended my first conference and from there I was hooked. I joined the National Executive and loved serving for three consecutive terms with a fantastic enthusiastic team. We established the Top of The South Branch, which I am still currently on the committee for. I went on to be the Conference Coordinator for CANZ for several years- I loved this role, interacting and supporting all the branch committees and members who hosted the various National Education events. For me attending the CANZ National Educational Events and ToTs Branch workshops are some of the highlights of being a CANZ member.
What ceremonies do you perform?
Marriages, Registry Weddings, Elopements, Funerals, Internment of Ashes, basically any Celebration of Life that clients want to celebrate.
What do you enjoy about being a celebrant?
The variety, the challenges, the creativity, but most of all my funeral work with grieving families and how I can help in some small way try to ease their burden of grief.
What are some of the hardest parts of being a celebrant?
Allocation of time to commit to writing my ceremonies, researching the content to include, so that each ceremony is truly unique. Finding that silver thread to run through my ceremonies to weave them altogether, to make them truly bespoke.
What was the most memorable ceremony you have performed?
Several- My youngest son and daughter in laws wedding, the funerals of both my parents – all of these were such an honour to officiate.
What would be your typical day as celebrant?
This begins with a final check on my computer, ensuring no last-minute changes have been added- especially for funerals for that afternoon. A quick check of celebrant tote bag ensuring I have all the documentation and booklets printed ready to go and I Pad fully charged with ceremony downloaded. Normally an hour and a half car trip into town, or sometimes a boat ride into the sounds for a ceremony in a remote location. I only officiate at one service per day, as my travel times can be quite extensive. Arrive at the location 60 mins prior to the start of the ceremony, set up and do my sound checks, as I always take my own PA system for weddings, and occasionally for funerals in remote areas. Touch base with my clients if they are on site, officiate, perhaps share one celebratory drink, pack up and say my goodbyes. Play some of my favourite music on my way home. I always undertake my special rituals on my return home- light a candle, get out of my celebrant attire and debrief if I need to.
What advice do you have for someone new to the industry?
Attend as many Branch workshops and CANZ National Conferences as possible- these are so rewarding in so many ways, you not only fulfil your Professional Development commitments but you get to meet such a wonderful array of inspiring like-minded celebrants.
Definitely undertake Celebrant training with one of the accredited training providers… I completed my Celebrant Diploma with the Celebrant Training College after I had been a celebrant for quite a number of years- and found it most beneficial to my Celebrant practice. Find a mentor, ask if they might critique one of your ceremonies and keep reviewing your celebrant practice! But most of all, have fun and remain professional!
How do you like to relax?
I love gardening, boating and spending quality time with my family, skiing with my four grandchildren keeps me fit and young at heart. I also love my artistic bent, designing costumes for WoW and stage sets and costumes for our local dance company.