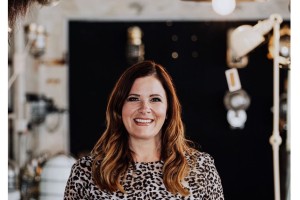 A day in the life of celebrant Donna Yeats
How long have you been a celebrant for?
About 18 months now… I am a relative newcomer to the world of Celebrancy.
Why did you become a celebrant?
I had wanted to become a celebrant years ago but that's when the qualifying courses were in Wellington or Auckland which wasn't suitable to me at the time. When Covid hit they brought all courses online which gave me an opportunity to qualify from home… So that's how it all started.
What involvement do you have or had with CANZ at a branch or national level?
I am an assistant to the Chair for our regional branch here in Taranaki and one day I hope to sit on the National Executive… I think I have a lot to offer the organisation.
What ceremonies do you perform?
Currently funerals only but as of Summer 2024 I will be doing both Funerals and Weddings. I can also perform all manner of ceremonies when asked from Baby Naming to Anniversary ceremonies.
What do you enjoy about being a celebrant?
The people. That is the main reason for me being a celebrant, I have always enjoyed being around people and helping them when they are in need. I love supporting people through both the hardest and happiest times in their lives. I guess I have a deep commitment to creating memorable and meaningful experiences for my family's, celebrating life's milestones, and providing comfort during times of loss.
What are some of the hardest parts of being a celebrant?
There are many challenges faced by Celebrants, in fact many more than I ever imagined before I started. But, I think the hardest for me personally is when a child is involved, as a mother of a 10 year old I think losing a child is one of the hardest things that parents and family members would ever have to deal with so this is incredibly challenging for me to be able to hold it all together on that occasion.
What was the most memorable ceremony you have performed?
It's an interesting question because they are all memorable in their own right for one reason or another… But any ceremony where you really bond with the deceased's family and you perform a ceremony that is exactly what they wanted and everyone is so at ease afterwards. This leaves me with a lovely feeling of satisfaction and that I helped the family in some way.
What would be your typical day as celebrant?
Well, I run my own business aside from being a celebrant but typically if I am working on creating a ceremony my day would go like this…..
My day starts by getting up and going to an early Pilates class or taking my son to school. Then I grab a much needed coffee to fuel the day. I may do some consulting work for my business before meeting the family for my first initial meeting. At this meeting I will meet with the family to discuss their specific desires and preferences, ensuring that the ceremony reflects their values and beliefs. My family meetings last on average 2 hours.
I love the initial meetings as I meet new people and help them navigate through their grief in order to create a meaningful ceremony they feel comfortable with. Then I will come home and start crafting the ceremony based upon the information I have gathered during the initial meeting. I often take my two dogs out for a walk and think about their needs and requirements first and then it's a sit down in front of books and my laptop to create the ceremony.
As a newbie I have been known to turn to my peers in the celebrant industry for advice on something if I am struggling and they have been really supportive and helpful. Typically a ceremony can take anything from 3 – 6 hours to craft. I am hoping that time will reduce as I get more experience. I know this may sound strange but when I am writing a ceremony I also watch funeral ceremonies online from all over the world. This puts me in the right frame of mind creatively and I also pick up new methodologies as I go!!
I write every ceremony from scratch every time as I find that sits with my ethos of making every ceremony completely unique to the family I am working with. I often will contact the family and check some details with them to ensure I have got the correct information from them. My day often ends with spending some quality time with my family. We are all pretty busy and so I really value time to sit down with them every day and catching up on everything that has happened. I find this grounding and I am able to park the Celebrants side of my life when I am with them… They are my therapy. The day ends with me doing a final copy check and then printing out my ceremony and binding it so it is fresh and ready for the service ahead and I can sleep peacefully knowing everything is right and ready.
What advice do you have for someone new to the industry?
Don't be afraid to ask for help…I have found a support network from local Funeral Directors to other Celebrants to the team at CANZ who I will ask for help if needed. Thus far everyone has been incredibly supportive and I am grateful for their openness and knowledge which they have willingly shared.
How do you like to relax?
A love a Gin and Tonic with friends – a good giggle can put the world to rights
Walking my two dogs Tinny and Portia
Family time – they are my therapy and I love anytime I get with them
Pilates – despite it hurting a lot it's my time to relax .. J