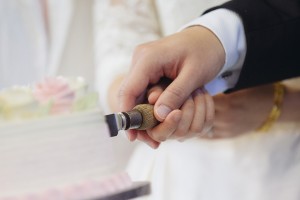 Cutting the cake, and sharing it, is rich in symbolism, ritual and ceremony. Every era and culture has and does this differently. Think military swords, Asian rice cakes, fertility and futures. The tradition of a bride and groom cutting the cake ceremoniously together seems to have begun in the 1930's.
In earlier times, maids of honour would pull ribbons from below the wedding cake and whoever pulled the ribbon with a ring attached was said to be the next to marry. Another custom was for the un-betrothed to sleep with a slice of wedding cake under their pillow; hoping to dream of their future beloved.
In Roman and in medieval wedding feasts, flat bread was shared, while in the 16th Century guests would have preferred to get rid of their 'bride's pie' with its less than desirable or edible ingredients. A century later and cake was more common with one for the bride and one for the groom, a precursor to the tiers perhaps?
Today, and in common Queen Victoria, a wedding cake is more often than not an expression of food as art and can be as elaborate and eccentric as any couple wants it to be with a range of art, style and flavours to match.
'Cheese' cakes, starting with a large round of brie or camembert and building from there are increasingly common and especially easy to transport on the boat or a picnic. Chocolate, carrot and lemon are hot flavours and individual cup cakes are also popular. In this case the newly married couple might cut a single cake, often at the end of their marriage ceremony rather than half way through their 'wedding breakfast' which was the norm.
In New Zealand, we really can create a ceremony unique to your wishes. To find a celebrant who will create exactly the ceremony that you want before you cut the cake, start with the Celebrants' Association of New Zealand (CANZ).