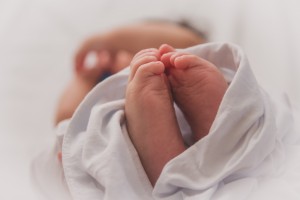 The arrival of a new baby or family member is a time for celebration, and many families choose to acknowledge this time with a ceremony or ritual. If you're a member of a religious community, you may choose a formal ceremony like a christening or a baptism. But if you aren't part of a religious group – or if you prefer a more informal ceremony – you may choose to do a Naming Ceremony instead.
A Naming Ceremony is a chance to gather together with family and friends and formally celebrate the newest member of the family. It's a celebration of family and life.
Read on to find out what you need to know about arranging a Naming Ceremony with a CANZ celebrant.
When to Arrange a Naming Ceremony
When a baby is born, many parents wish to celebrate their arrival with a welcoming or naming ceremony. Traditionally these types of ceremonies take place within the first year of baby's life – sometimes forming part of another celebratory occasion like a first birthday.
But Naming Ceremonies can also be the perfect time to celebrate older children in the family, or an adopted child, an extended family member or a joining together of a blended family. There are no rules as to when it's appropriate, it's entirely up to each family to decide when is the best time.
Where to Have a Naming Ceremony
Indoors or outdoors, you can hold your Naming Ceremony in any location. Some families choose a garden or park, while others book a venue like a hall or restaurant. Whether you prefer a relaxed environment or something more formal, Naming Ceremonies are a beautiful time to gather together friends and family and celebrate the newest family member.
What's Included in a Naming Ceremony
A Naming Ceremony can take any format you choose. From a simple welcome to the world or naming of your child, to a blessing or a prayer for your child and family. You may want to make a commitment to your child by stating your hopes and wishes for your child's future, or have other people in your child's life – like siblings – take part in the ceremony.
CANZ Celebrants are experienced at facilitating Naming Ceremonies and can help you design the perfect Naming Ceremony to fit your wishes. CANZ Celebrants can also help with ideas and suggestions – like special readings or poetry, music or stories - so you plan the perfect Naming Ceremony.
Contact CANZ today to find the right Celebrant for your Naming Ceremony.