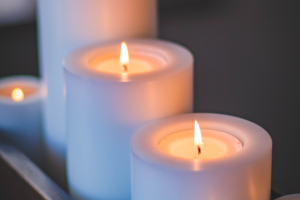 What does a funeral celebrant do?
When a loved family member dies, whether sudden or expected, their death triggers change. Loved ones will be thrust into grief, it is very sobering. What happens next? Who do we talk with? Where do we start?
If the death was expected, family may have already had conversations about what next. If the death was sudden, family will be in various states of shock. The most immediate need is for someone to take care of your loved one. And that will be a Funeral Director, who will come to the place of death and take your loved one into their care. They will support and mentor your family on what happens next.
Please never underestimate the importance of having some form of farewell for your loved one. They may have said 'I don't want a funeral, no service, no fuss.' It's possible to have a shared farewell without a lot of fuss or to make it a bigger send-off. In either case this is your family's shared opportunity to openly grieve and say goodbye.
This is where a great funeral celebrant will bring guidance, support and comfort. Those of us in the 'death and grief' business know how important it is for the living to gather and share stories and to lay their loved one to rest collectively.
You may be put in touch with a funeral celebrant by the funeral director, or you may know of the person you'd like to have.
Celebrants Aotearoa funeral celebrants are professional and experienced. They are someone you can lean on to facilitate a personalised and meaningful service to honour your loved one. And there will be CANZ funeral celebrants in your greater area.
They create funerals or some form of farewell, that respect all beliefs, ethnicities, genders and faiths. A CANZ celebrant will work closely with your family, listening, supporting, comforting and advising. They will take the time to get to know the deceased. And together you will find how best to say goodbye to your loved one. The celebrant will then craft a service from your discussion that reflects the personality, beliefs and values of your loved one, and one in which you can participate if you choose to.
The single most important advantage of working with a professional funeral celebrant is the level of personalisation they will bring to the service. Unlike a traditional religious service, an independent, professional funeral celebrant has the freedom to incorporate various elements and traditions to create a meaningful tribute. They can incorporate unique rituals, readings and music that hold significance for the family and the deceased. This personal touch will deeply enrich the service and leave lasting memories.
Many traditional funerals are held in religious settings. Funeral celebrants in partnership with the Funeral director, can suggest flexibility with the location. Whether it's a chapel, a park, a beach, or even the family home, the celebrant and funeral director can adapt to the chosen setting.
If your loved one has already been cremated, a well-structured memorial service can provide closure and a sense of community, helping individuals come to terms with their loss.
Funeral celebrants play a crucial role in helping families navigate the difficult terrain of grief and loss. Their ability to create highly personalised and inclusive memorial services offers solace to those left behind.
At Celebrants Aotearoa, we have 100's of professional funeral celebrants nationwide. Visit our website and use the 'Find A Celebrant' button. You can refine by location, gender, type of ceremony, and language spoken - Celebrants Aotearoa website.