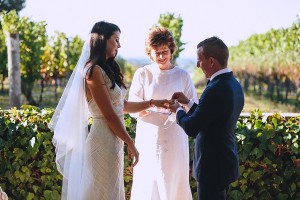 What does a celebrant do the day before your marriage ceremony?
A wedding is a fabulous milestone event that a couple should remember forever – for all the right reasons. A day to be surrounded by the people they hold in their hearts.
Naturally, a great deal of planning and organising will have gone into making it everything they've ever wanted, and by the day before most things have been set in motion.
You may be feeling excited and perhaps a little nervous that it's all going to go to plan – the wedding of your dreams.
One person who truly has your back is your celebrant. They'll ensure everything to do with your ceremony goes to plan, even if the weather turns 'iffy' or some other unforeseen issue. Your personalised ceremony script and vows will be finalised and all the special touches for your ceremony sorted.
They'll be adept, flexible and will have communicated with you many times to get to this point.
Day before prep
For celebrants, the day before a ceremony is usually spent checking and double checking everything. No doubt your celebrant has a check list they go through to ensure everything's ready and perfect for the big day. They'll usually read through the ceremony script a number of times and rehearse it out loud, to feel completely comfortable and confident with their delivery of it.
Your celebrant will also be putting the finishing touches to their ceremony folio or ensuring it's all loaded onto their tablet. They'll have all the legal documents printed out and ready to take with them, as well as a signing pen and some spare ones. Some celebrants bring a folio or paperweight in case wind on the day decides to play havoc with the legal documents.
Day before rehearsal
A rehearsal is a choreographed run-through that usually happens the day before the wedding itself. It takes about an hour and is held at the wedding venue or a substitute place if necessary. A really great celebrant will be adept at taking you through it.
A rehearsal is held most often for a larger wedding, intimate weddings may not require one. The aim of a rehearsal is to put you at ease. A great rehearsal means you'll feel safe in your celebrant's hands and confident you know what to do on the day.
Your celebrant will have previously explained what happens at the rehearsal and the key people who should attend. It's an exciting time to finally be with your bridal party, parents and siblings all together at the venue… usually there's a lot of laughter and happy banter – it's a really happy time and an icebreaker.
Your celebrant will have also encouraged you to ensure your emcee and anyone reading or doing something in the ceremony is at the rehearsal. They can then get the chance to practice out loud in the real space. And your celebrant will help them get their bearings.
Your rehearsal puts everyone on the same page, so on-the-day there are no unplanned surprises. And you'll be able to relax and enjoy the evening prior.
Here's what happens at a rehearsal
Your celebrant will have their own approach as how to run the rehearsal but here are some of the things they'll take you through.
Your celebrant will assess the ceremony space, weigh up options and discuss with you seating and whether an aisle is required.
They'll discuss the ideal place for a signing table.
They'll ask you where you'd like to stand during your ceremony and put you in position.
They'll place your bridal party in position with your help and in what order.
They'll converse with your function manager, photographer, videographer on the bridal party position for visibility and ease of shot. This is key to keeping those recording the memories to be discreet during your ceremony.
Your celebrant will put you in position for signing documents and where the witnesses should stand.
They'll then put all of the bridal party in position for the ending when you are introduced as a married couple.
They'll then practice the entrance of everyone in the bridal party, to music if possible.
And likewise, they will practice the ending when you walk down the aisle followed by your bridal party and parents.
And should you be including a ritual like handfasting, the sand ceremony or lighting candles, your celebrant will help you practice these too.
And last but not least, your celebrant will take the two of you aside, privately, to practice your vows and ring sequence. They'll also share how to manage unexpected emotions and discuss any confidential issue so the three of you are in sync.
So it's a busy time the day prior and a great celebrant will be highly organised to ensure you have a wonderful marriage ceremony – one you'll be delighted to remember forever.