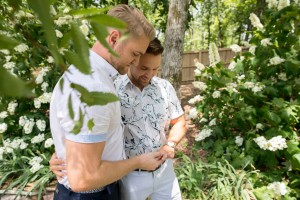 While 2020 certainly challenged the way weddings were celebrated, in 2021, some of the changes we made last year have become a normal way of life for us, with fewer couples choosing to splurge on lavish celebrations, and instead opting for smaller, more intimate and often spontaneous weddings. Here are some of the other changes that have become wedding trends in 2021.
Eco-conscious and intentional
Post-pandemic, we've become more aware of our footprint than ever. Many couples have ditched expensive decorations, confetti, and wedding favours, instead choosing more sustainable alternatives like:
Biodegradable confetti.

Op-shop seconds to dress up the décor.

Digital invitations instead of traditional posted invites.

Plastic-free weddings.

Donations to environmental charities in lieu of wedding gifts.

Bridal party outfits sourced from ethical designers.

Vegan and vegetarian meal options.
Welcome packs
Hand sanitizer, masks, and tracer app signs are just some of the guest-centered details that have become part of wedding celebrations around the world. Welcome packs that house all event necessities in one place, like personalised hand sanitizers, masks, programs and details, and even take-home favors, are fast becoming a normal addition to weddings.
And not forgetting those guests joining via livestream – it's quite usual these days to send out celebration boxes with mini wedding cakes or bottles of bubbly to those not physically able to attend who can join in and toast the couple from afar.
Micro-weddings
This year, we're seeing a rise in the number of micro-weddings; smaller, more intimate celebrations with fewer than 50 guests. There are many positives to this new trend, from being able to spend more time with those guests attending, to the overall vibe of a more personal celebration.
Weekday weddings
Weddings outside of Saturdays are a trend we're certainly seeing more of in 2021. A weekday wedding could mean your ideal venue is now within your budget, as many venues charge less during off-peak hours. It could also mean more choice when it comes to finding your celebrant and other suppliers, who may already be booked out over the weekend.
Something spontaneous
Fueled by event restrictions and lockdowns, another post-pandemic wedding trend is the advent of spontaneous weddings with far less planning and organisation. Instead of focusing on specific details – like colours, place settings or invitations – couples are choosing ready-to-wear-outfits and planning a wedding celebration in a much shorter time. Micro-weddings and elopements allow more couples the opportunity to bring their personalities to the party often in a far more spur-of-the-moment way.
At CANZ, we believe that wedding celebrants not only to perform the perfect wedding ceremony, but also help create a lifetime of memories of your special day. If you'd like to talk to a wedding celebrant who can create exactly the ceremony you want, start with CANZ. Find a celebrant here.