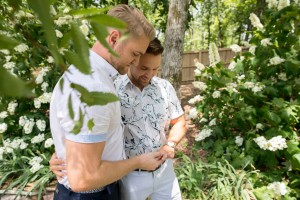 Smaller, more intimate weddings are becoming the new normal, with lockdown restrictions and COVID-19 changing the way we do ceremonies. But that doesn't mean missing out on time-honoured traditions and meaningful rituals.
If you're considering a small wedding – either by choice or because of a lockdown – we'd like to reassure you that small can be just as beautiful. And that the intimacy offered by a low-key wedding with only your closest family and friends still provides a truly magical day that you'll remember forever.
To help you get started on planning a small, intimate wedding, take a look at these top tips.
The Guest List
Paring down your guest list can be tricky, especially if you have a large family or an extended group of close friends. But a smaller guest list means a big saving in wedding costs and more time to spend on the day with those guests who are invited. While you can't marry via a virtual platform, you can certainly invite people to join the ceremony.
Try to limit your guest list to those people who are nearest and dearest to you. You could make your wedding adults-only, limit plus ones, or only invite immediate family or very close friends to help keep the numbers down. When it gets really tricky ask: 'who will support us in our married life together?'
Choose Your Venue
Not having hundreds of guests to seat at your venue means you have more freedom when it comes to choosing a venue. So take advantage of your pared down guest list and plan a ceremony somewhere perhaps more meaningful – maybe your favourite brunch spot, a local park, an outlook with a magnificent view, or a beautiful garden.
Add Your Personality
Get creative and add a personal touch that truly reflects who you are as a couple. A smaller guest list means you can do much of the wedding planning and arrangement yourself: from DIY invitations to a more intimate seating plan, welcome gifts for guests, or personalised décor. This is your chance to create a relaxing and fun wedding ceremony that both you and your guests will enjoy.
Ditch The Excess
Not keen on a formal sit-down meal? Skip the caterer and opt for something unique. Hire a food truck for an outdoor ceremony, a picnic in the garden or a backyard BBQ, or plan a champagne brunch at your local café. Having a small wedding helps free up your budget so you get to splurge on those few key elements and ditch the rest.
Book Your Celebrant
A marriage celebrant plays an integral role in your special day, no matter how big or small your wedding is. Without a celebrant to facilitate your wedding ceremony, your special day may not go as planned.
At CANZ, our celebrants have continued to deliver honest, personal ceremonies with integrity and competence despite the impact COVID-19 has had on how ceremonies are conducted. Through continued professional development, they have adapted and are able to facilitate smaller weddings and online ceremonies where screens are shared with absent friends and family. Regardless of the platform, CANZ celebrants continue to provide ceremonies that honour and include others in the ceremonial space.
Get in touch today to find a CANZ celebrant in your region and start planning your small, intimate wedding.