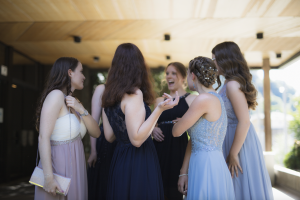 Tips to Planning A Surprise Wedding
Wedding planning can be intense and stressful at the best of times! There's a location to choose, a schedule to coordinate, guests to organise, budgets, dresses, and endless lists.
If you're thinking of planning a surprise wedding, then read on as we delve into some tips and tricks for pulling off a surprise wedding, straight from some of our celebrants who have been there AND done that!
1. ACTUALLY keep it a secret
This one might feel like a give in, but apart from the two of you and your vendors, keep your plans a SURPRISE! It might be really tempting to tell a few of your closest friends and family, but the more people you tell, the more likely it is your secret will get out.
2. Create the disguise
Will it be a family BBQ? A birthday party? A house warming or engagement party? Whatever it is, you need to create the disguise event to get everyone to your venue.
3. Make your guests arrive on time
This part is KEY to ensuring everything runs to plan. It can be helpful to give them a fabricated deadline for something else important that they won't want to miss. It could be a DJ starting, a cake being cut, or dinner being served.
4. Ensure the reveal is clearly communicated to everyone at the same time
A great tip for this one is to get your MC or marriage celebrant to announce the wedding plans around 10-15 minutes prior to when it starts. This gives your guests the chance to process, prepare and find a seat.
5. Hire an experienced Celebrants Aotearoa celebrant so it runs smoothly
We have over 900 celebrants nationwide who are experienced in all types of ceremonies and are here to make every moment special.
If you'd like to talk to a professional celebrant who can create a unique and personalised ceremony you want, start with Celebrants Aotearoa.