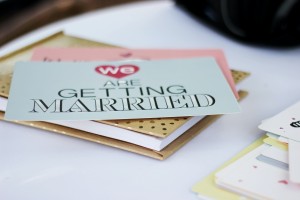 When it comes to planning a wedding, turning your dreams into reality can often be a challenge. Even more so if you're under time pressure. By focusing on one task at a time, getting help from friends and family, and working off a wedding planning checklist, you can turn that overwhelm into a successful wedding day.
To help you get started, here are 7 tips for planning a dream wedding:
1. Set a realistic budget
Your wedding budget will be the driving factor behind many of your wedding-related decisions so it's important you tackle this first. There's no point deciding on the important details like outfit or venue until you have a realistic figure in mind. So sit down with your partner and any family members who may be contributing and calculate your total budget.
A typical breakdown of wedding costs would include:
40% of your budget - Venue and catering
10% of your budget - Flowers for the ceremony and bridal party
10% of your budget - Entertainment
10% of your budget - Photography
10% of your budget - Outfits and shoes
20% of your budget - Wedding planner, wedding stationery, transport and any extra miscellaneous items.
2. Decide on the type of wedding
Putting your wedding vision to paper can help you decide on the important elements – the must-have parts of your ceremony that you aren't willing to negotiate on. Will you have a formal or a casual wedding? A sit-down dinner or cocktail reception? A church or garden ceremony? Find resources of bridal inspiration that you like best on Pinterest, Instagram, in magazines, or bridal websites and start researching.
3. Write your guest list
Before you start planning it's important you know your guest count. Talk to family members on both sides to ensure you have a well-rounded count of the maximum number of guests. The number of guests you'll have will also help you narrow down potential wedding venues, catering, and other wedding-related items. Remember, a smaller, more intimate wedding is just as magical but far less costly than a 200-plus guest list wedding.
4. Set your date
Choose a few dates for your wedding day and try to be flexible in case your first choice of venue isn't available for your set date. Think about things like special holidays or peak season dates that could make it harder for you to secure your ideal date and even make it more costly.
5. Choose your celebrant
Finding the right celebrant to officiate at your wedding is a personal journey for many couples. The right celebrant will not only ensure your wedding day flows beautifully from start to finish, they'll also be responsible for bringing together your friends and family on this special day.
It's important you carefully research your choices, ask friends and family members for recommendations and ask your celebrant these questions to help avoid any surprises on the day.
6. Send out your invites
Plan your wedding stationery once you've decided on the style of your wedding and have confirmed your venue for your wedding date. If your wedding is set for more than nine months away, you may want to send out save-the-date cards initially, with invitations to follow at least six to eight weeks before your big day. Whether you're sending out an online invite or a printed version, be sure to get your invites out in good time.
7. Choose your outfits
Finding the perfect outfit is a process on its own so be sure to give yourself enough time to find the right outfit to fit your dream wedding day. Remember to factor in extra time for fittings and alterations, even more time if your outfit is being custom made.
We hope these wedding tips help you create the most magical wedding day. Our celebrants can work closely with you to create a bespoke ceremony that reflects you as a couple. Get in touch if you have questions about choosing a CANZ celebrant.