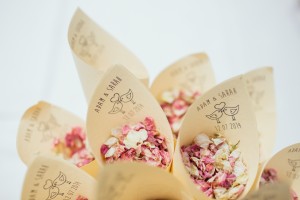 Weddings cause a massive amount of waste. But planning a wedding and making it environmentally friendly can be daunting. You might ask, "Is it more expensive if sustainable?" Or, "Wouldn't it be easier if I kept to my original plans? No one will notice."
Stop right there! An eco-friendly wedding doesn't mean extra work or more money. And deep down inside, none of us want to add to the endless waste.
Going the sustainable route is becoming more common. More wedding services in New Zealand are starting to cater for the more eco-conscious. We even have celebrants who focus on eco-friendly wedding ceremonies!
But, it takes more than your efforts to have an eco-friendly wedding - you need to get everyone involved! Yes, everyone! So, where do you start?
Digitally yours
You have chosen the date, and now it is time to send the invites! Why don't you save paper and send them online? There are many excellent online platforms to send online invitations, maps, gift registry lists, and other details for your guests.
The eco-fashion wedding wardrobe
There are plenty of ways for brides and grooms to do their bit for Mother Earth: buy second-hand dresses, go vintage, or even hire a gown or tuxedo. But, we often forget about the waste our guests create, especially as most ladies love buying a new outfit for occasions like these. So, why don't you ask guests to wear something they already own or purchase second-hand clothing for the wedding?
Green gifts
Newly wrapped gifts add to the waste, especially the waffle maker that you will never use. If you want gifts, use a wedding registry to receive goods you will use.
Alternatively, ask guests to gift you money towards an experience and not a physical gift, like a hot air balloon trip or your honeymoon!
And if you are looking for the greenest gift, ask for plants that can be donated or planted in your garden as a beautiful reminder of your special occasion.
"My son and his fiancé have asked their guests for trees/or money towards trees for their property as wedding presents to grow a native bushland at their place."
Celebrants Aotearoa member
Friendly flowers and foliage
Some cut flowers are not environmentally friendly! Why? These flowers have been flown from afar as South America, creating a large carbon footprint and have also been sprayed with chemicals.
Ask your florist to use locally grown flowers and, if possible, grown organically. The local flower farmer movement is growing, so check in your local area if there are any organic flower farms.
Wedding party favours or foes?
You have 100 guests, which means 100 favours - are they going to be used or forgotten about? This little tradition may produce more waste than want. So, think carefully about what you will be buying, how it will be packaged and can it be recycled?
"I attended a wedding where everyone was given a glass/cup from a second-hand shop and told it was theirs to keep and use."
Celebrants Aotearoa member
Some great ideas that don't require packaging are candles, seed bombs, tree seedlings or just a token card to say that you have donated the money to a charity that means a lot to you and your partner.
Conscious confetti
Many people use dried roses or flower petals as a more environmentally friendly option. The question is, where do they come from? Source a locally grown option. Or you could always ask your neighbours to collect and dry their rose petals after pruning!
Decorations
The number one rule is to reduce waste by avoiding single-use items, such as paper napkins, paper nameplates, and plastic cutlery.
Hire as much as you can. However, if you do have to buy something, think about these three questions:
Can I buy a second hand one?

Can I resell it or upcycle it later?

Is there a more environmentally friendly option?
Support local
Lower the carbon footprint of your wedding by cutting down on transport and supporting local suppliers, venues, photographers and celebrants!
Conscious catering
We would all love to support local organic food and wine suppliers, but at times it might not be in everyone's budget. There are small ways you can make a difference:
Ask caterers to recycle all packaging and compost the scraps.

Use a local caterer who can source affordable local items.

Ditch any single-use cutlery and straws and ensure that all the dinnerware is hired.
Pass it on
Once the day has come to an end, don't forget to pass on the leftovers. Gift your flowers to hospitals or care homes - they will appreciate them! Don't forget about the leftover food - ask your caterers to box up any unused food items and drop them off at a homeless shelter. Pass on the love!
The list of what you can do to reduce, recycle and reuse is endless! So have some fun and start thinking out of the box - you might even start a new wedding trend!
If you are looking for a celebrant in your area, find one of Celebrants Aotearoa members here.