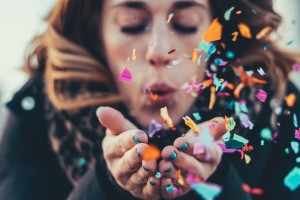 Surprise weddings are, well, surprisingly common these days. As well as a little ploy and tactics with a hint of secrecy, they might be less hassle and more heart-warming, definitely less fuss and more fun! And they probably will cost less too! While it can take your guests a few minutes to adjust to the idea of an unexpected ceremony, there is reduced expectation and everyone can get on and enjoy the 'I do' moment, and of course a big celebration after!
Planning a surprise wedding puts the couple fully in charge, although there may be a few key people to bring in on the secret (children can be especially keen and vital allies provided they're old enough to get the significance of stealth). And, of course, your celebrant needs to know that it's an unexpected event. Here timing is important because the celebrant needs to arrive at the critical and agreed time; not too early, not too late.
For couples who don't like to be the centre of attention or for people who don't need or want gifts, a surprise wedding can be ideal. Here are some cover events which might help you pull it off perfectly:
Invite people to a:
Special family gathering
Significant birthday
House-warming party
Engagement party
But be aware that while people generally turn up to a wedding on time, when it's another event, punctuality can be a bit hit and miss and you'll need to take that into your planning. A good hint is to set the time half an hour early so hopefully no one will be late!
To find a celebrant who's happy to keep your wedding a secret, start with the Celebrants' Association of New Zealand (CANZ).