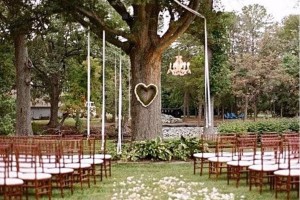 Setting the Ceremony Scene
Set the focal point – where you'll stand to be married. Will your guests be able to see you or do you need a raised platform. Is there room for your wedding party? Where will your celebrant stand? Will the archway or pergola you're planning be wide enough for the three of you to stand under or in front of it? Any structure that sets the focal point needs to fit the space – be balanced, well-proportioned and beautifully dressed. Urns with arrangements need pedestals so they're seen above seated guests' heads.
Having a centre aisle? Make it wide enough for two people to comfortably walk beside one another – 2 metres.
Have seating for at least a third of your guests – more if possible. This will set the framework of the area. If you have forty chairs, work on five rows with eight chairs or six rows with seven chairs. It is better to have wider rows so guests can be closer to the action. The rows work well set on an angle fanning out from the aisle, this gives guests a feeling of being drawn in. Folding chairs with a bar across the bottom of the front and back legs, will not dig into the lawn or become lopsided.
Allow sufficient space between the wedding party and the first row – not so close as to be on top of each other, and not so far away that guests feel separated – around 3 metres.
Place a table, wine barrel or something similar at the front on one side for the signing of documents. Set one or two chairs for the signing. Your faces will be closer to the signing documents and for photos. Your bouquet is lovely placed at the front of the table to be in the foreground.
Invest in a sound system for the celebrant and anyone who is speaking in your ceremony. You can hire a portable system with a lapel microphone and a hand held for around $250 or less. It should also play music from an Apple or Android device. This will be a very small investment in comparison with your big spends. You'll be able to use the system for your reception as well.
Having live music… set your muso's up on one side near the front where they're sheltered and can easily access power. Sound levels should be tested at your rehearsal. They may be able to provide a microphone system as part of their setup.
Stunning, beautiful and elegant - a flower garland on a massive tree trunk and branch
Avoid a noisy place – beside a waterfall, river or surf beach, busy road, airport and so on.
Public parks and beaches can be fantastic, remember that they are public. You may need to get permission from the city authority to get vehicle access and have your marriage ceremony in a park or reserve.
Make sure your spot is sheltered if outdoors. If it's really hot and sunny guests will need protection with large umbrellas or a sail of some sort. A sunscreen and water station is handy. Wind is unkind to hair, hats and hand held microphones. Rain puts a damper on everything. And those pesky flying insects love a crowd - citronella and Deet are good repellents. Before you leave home, put some insect repellent around your ankles and your best French perfume on your pulse spots.
You need an indoor contingency if the weather turns iffy. It can be embarassing when guests seek shelter and are loathe to go and be seated. Make the call at least 1 hour before your ceremony and maybe give that authority to your MC. Make a call earlier if seating, archways, flowers, musicians etcetera need moving. If your indoor alternative space is at a different location then you'll need to make the call the day before and advise guests. NB. Some of the most memorable ceremonies I've taken have been those forced indoors – everyone gets cosied up as the storm rages, and we're all in it together – fantastic, supportive energy.
Together with your celebrant, you'll put lots of love and care into your ceremony and its setting. Have a truly magical wedding day.