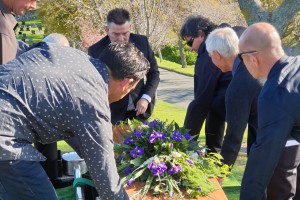 Planning a Farewell for your loved one?
Our approach to death has changed in New Zealand. Covid has accelerated the change; whether it's cost related, the deceased's wishes to 'leave without fuss' or something else. Whatever the 'new normal' around death and funerals, humans remain the same – we all grieve loss.
A funeral or some other form of farewell is a special time and place to support one another in grief. It is essential for our wellbeing, individually and collectively. Taking the time to remember, share and say goodbye is the beginning of a new life without our loved one.
What many people experience when a loved one dies – expectedly or suddenly – is the impact of grief. It affects us all differently. Some folks immerse themselves in organizing, others are numb and fragile. In many cases there can be brain fog; grief can muddle your thinking, recall and decision making.
Whether you are planning a funeral for a loved one or preparing your own final wishes, there is a lot to consider. Here are some of the things you will need to navigate during this often-difficult time. Your celebrant and funeral director will be able to support and guide you.
Take your time. There is no need to rush ahead unless there is a very good reason to.
1. Cremation or Burial?
Your loved one may have preferred a cremation or a burial, if not family will need to make that call. Cremation is a less expensive option. And although burial requires buying a plot in a cemetery, some families prefer this option. There may already be a family plot or an urupa.
2. The Final Resting Place
Regardless of cremation or burial, what is important is your loved ones wishes or what your family would collectively prefer. Do you wish to inter ashes in a cemetery memorial wall or scatter them in a special place where it is legal to do so? Would you prefer to keep your loved one's ashes in a special urn or box? Would you prefer to bury your loved one in a family plot. Any of these options mean you can have your loved one close by you at home or you can visit their final resting place.
3. The Financial Costs
If finance underlines what your loved one and/or family can afford then your funeral director is the best person to advise you from the outset. As a family you need to agree and be very clear about the fundamentals. Priority One is the care of your loved one after death. And depending on where they died, a funeral director will be required to come and transport them to the appropriate place – direct to cremation or to the funeral home. On rare occasions an autopsy is needed in which case your loved one's body won't be released to family until that is completed. If you're planning to wait until the family can all get together, then your loved one's body will need to be cared for the appropriate time delay. Costs may include embalming and presentation, particularly should family wish to visit their loved one. It will include buying a casket, a cemetery plot or cremation fee, visits to your loved one at the funeral home, your celebrant's fee, flowers, refreshments and transport. Some of these things can be done by family. Managing the costs in advance can ease the burden when it comes to paying the bill.
4. Public, private or no service
The formality that often comes with a funeral is for family and close friends who want to honour and celebrate the life of their loved one with a celebrant lead service. If informality seems a better option then a small gathering in a home, garden or special place may best suit. A celebrant, family member or friend can lead this. Remember that a shared farewell may be the only time you can feel safe to openly grieve and share comfort and support. Or you can have a simple sharing at the local crematorium or no service at all.
5. Your funeral celebrant
Of all the details, the important thing to consider when planning a funeral is who will be your celebrant. Most funeral directors will suggest an appropriate celebrant or you may have someone in mind already. You should be informed of their fee from the outset. In either case, your celebrant is the key person . They help gather the stories, the ideas, the music, the order of service and so on and then weave it all together in an original and personalized funeral service – no matter how intimate or large – and this will free family members to be with their own grief. Celebrants Aotearoa has funeral celebrants nationwide who are professional and very experienced.
Overall, planning a funeral can be a really stressful and emotional time. Be sure to lean on loved ones for support and ask your celebrant for advice and different options.