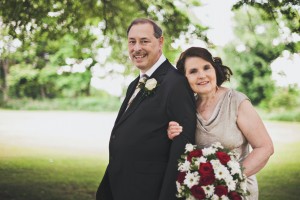 Your wedding day may only happen once, but the bond you share with your partner is ongoing. To celebrate a milestone anniversary, or to simply remind each other of the love you share, why not plan a vow renewal ceremony and create a special day, just the way you want it? Here are some ways you can personalise a vow renewal ceremony.
Write your own vows
If your original wedding vows are outdated, or they no longer reflect who you are as a couple, personalise your vow renewal ceremony by writing new commitment vows. While it can feel overwhelming trying to sum up all you feel in a few short lines, it's well worth the effort. Your wedding vows not only provide an opportunity to share the meaningful words you feel about the person you love, they provide your guests with some insight into what makes your relationship work.
Creating your magical day
This is your chance to speak your vows to each other all over again, albeit differently. The occasion might be smaller, it might be bigger! When creating this magical day, you might add in those elements you had to forgo the first time round due to budget constraints or other circumstances. Perhaps the dreamy wedding dress… A ceremony on the beach, on top of a mountain, or overlooking a magnificent vista… Or a much bigger guest list and an all-out party!
Get the whole family involved
A vow renewal ceremony is a chance to include children and other family members who may not have attended your wedding day. It's a much more casual affair without the stress that usually goes with a wedding day. Your children could take part in the vow renewal ceremony, perhaps as the best men or bridesmaids, photographers or videographers, or simply incorporate them into parts of the ceremony, however you choose to personalise it.
Plan a vow renewal
Milestone events are worth celebrating! Whether you've been married for two years or twenty, a vow renewal ceremony is a wonderful way to celebrate your love for each other.
However, you choose to personalise your vow renewal ceremony, remember to book your celebrant. Members of the Celebrants Association who perform vow renewal and milestone ceremonies are experienced at creating a style of ceremony that reflects your wishes, helping you personalise your vow renewal ceremony so that it's a day to remember.