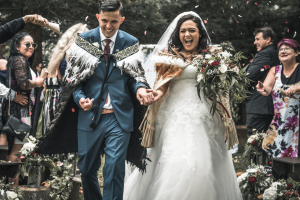 COVID is not stopping couples from saying "I do" in New Zealand. Weddings might have been postponed, the number of guests cut back, but couples are adapting and learning how to organise a wedding during a pandemic despite all the obstacles. It seems like love is still conquering all.
Our Celebrants Aotearoa members, who have been busy marrying couples all around New Zealand, share the wedding ceremony trends emerging in 2022.
Shorter and sweeter
"I'm finding people want 'short and sweet' ceremonies."
"I have found all of my couples have wanted quick ceremonies with them doing minimal talking. However, all have been beautiful with personalised adjustments."
Personalised ceremonies can be as long or as short as the couple wants. Shorter and sweeter wedding ceremonies seem to be on the up, but couples are still adding the magic by keeping them sentimental and adding in personal touches.
Tip: Speak to your celebrant of choice to see how you can keep the ceremony short but personalised. Their experience will help you tailor the wedding to your needs.
Smaller and more intimate
"The couple and a handful of guests mostly come to my place. Very special. Most groups have lunch or dinner together after the ceremony."
"Certainly smaller weddings of less than 100 are becoming the norm, and the brides love it! More intimate and more enjoyable."
While COVID has defined the number of guests and kept wedding numbers down, it has created a much more intimate style wedding with just immediate family and a few close friends attending. With fewer people, the couple can afford to spend quality time with each other and their loved ones.
However, not all couples want it small, and they do not want to wait any longer either. So they are finding a balance by keeping the ceremony very small or even having a secret wedding ceremony, then choosing to plan a big celebration once life is back to normal.
Tip: Cutting down on wedding guests may not be every couple's dream, but it doesn't mean you have to cut down on all the frills you dreamed of. Make decisions based on what's important to you as a couple when deciding how your dream wedding will look.
More DIY
"I've also noticed all weddings have had DIY as a big part of their decor."
With smaller weddings, the expectations of having a big white wedding with all the frills are not as high. Instead, couples are keeping it personal and relaxed and asking family and friends to get involved in helping with the decorations, bouquets and cake.
Tip: Remember, if you choose to ask your friends and family to get involved with the decor, understand that they are doing it out of love for you, so don't have high expectations of the outcome of the decor. If you are looking for perfection, hire a professional to do it.
More natural and sustainable
"I've seen more natural decorations and more local plants being used at ceremonies."
The world is moving to more sustainable weddings, and New Zealand is following suit. Couples are looking at using more local and natural materials, such as petals for confetti and using locally grown flowers, even if it is straight out of Mum's flower bed.
Tip: Ask your local florist for locally grown flowers. Avoid using cut flowers flown in from abroad, which leave a huge carbon footprint behind them.
Less waiting and fuss
"There are quite a few more destination weddings to avoid the fuss and only include immediate family or special friends."
Many couples put their weddings on hold during COVID, but couples are realising that "It's our time now. Why wait any longer." So, couples are taking the plunge and getting married at short notice.
Some are avoiding all the fuss of planning a wedding and choosing to have destination weddings with a few close friends and family members coming for the ride.
"The couple and a handful of guests mostly come to my place. Very special. Then they go and have lunch or dinner together after the ceremony."
Registry weddings are also on the rise, so couples don't have to wait a minute longer. Keeping it fuss-free, the couples are going to the celebrant's place with a few guests, then celebrate later.
Tip: If you want to do a destination wedding, Celebrants Aotearoa has a wide range of members around New Zealand who can help create your personalised wedding ceremony at the place of your dreams
If you'd like to talk to a wedding celebrant who can create the unique and personalised ceremony you want, start with Celebrants Aotearoa.
Credit for photos:
Bride and Groom
Wiremu Shute and Morena Shute
https://www.instagram.com/morena.s90/
Photographer
Julia Moore-Pilbrow
www.facebook.com/juliamoorepilbrowphotography
https://www.instagram.com/juliamoorepilbrowweddings/
Celebrant
Rose Haskell
Phone: 0278 RH CELE (74 2353)
https://www.instagram.com/rhcelebrant/