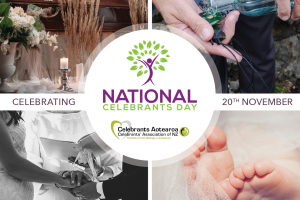 National Celebrants Day –
Time To Celebrate
In honour of National Celebrants Day taking place on Sunday 20 November, we took some time to chat with our celebrants and ask them, what makes you the best celebrant you can be and what do you love about your job?
Being a celebrant is an honour. It's hard work, and takes a lot of dedication and planning. Our celebrants cover a huge range of ceremonies. From marriages, to funerals, naming ceremonies to vow renewals and more. Whether we are celebrating life or love, it appears the one thing that all our celebrants can agree on, is that being a good celebrant stems from showing love. Love to those who are healing a loss. Love to those who are beginning their journey together.
Our celebrants love the healing and love that ceremonies facilitate, and being a part of life's highs and lows is something to honour, and such a privilege.
Being a celebrant is about helping others enjoy their day in whatever way we can, from having lots of laughs, being real, and walking alongside them right through to creating a ceremony that they will treasure forever.
Creating a wonderful marriage ceremony is all about listening. It's about finding out what each couple wants, exploring their values stories and wishes. It's about taking all of this, and adding our creative touch to bear in writing a unique and personal ceremony.
Funeral celebrants draw on multilayers of skill, knowledge and experience. Your heart must be open, your ears and antennae finely tuned, humility, diplomacy and patience at the ready. It is immensely rewarding and draining all at the same time. Not only are we taking notes, offering ideas, we're also giving pastoral care and communicating with the funeral director as well over several days.
The celebrant is the person who makes sense of things, the person who holds the ceremony together and the space for couples and families to be in the moment.
We are so proud of our celebrants and all the hard work they do across New Zealand.
Celebrants Aotearoa invite YOU to take part in National Celebrants Day on Sunday 20 November. This is a special day to celebrate all our incredible celebrants who are providing service to the community for weddings, funerals, naming ceremonies, vow renewals and other life celebrations.
How can you celebrate? We encourage you to meet up with other celebrants in your area and raise a glass on National Celebrants Day!
Remember to take a photo and share it with us by tagging '@canz_nz' on Instagram or @celebrantsaotearoanewzealand on Facebook and keep an eye out on our social media accounts for posts that you can share to your profile too.
Facebook post image
Facebook banner image
Instagram image
Web banner image