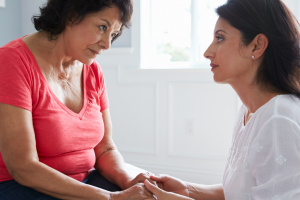 "Recently, I had to tell my 93-year-old mum, who has dementia, that my Dad, 94, had died. I put my arms around her, and I gently and slowly spoke the words, 'Mum, something big has happened.' This opened a space to prepare for this sudden change in Mum's life in a gentle, spacious, loving atmosphere."
Celebrant Aotearoa member
Informing family, friends and the community about the death of a loved one is never an easy task and, unfortunately, something that you cannot avoid or delay.
Informing a close member of the family
Telling a close family member that a loved one has died is the most challenging part, for you and them. If possible, try to tell them face to face. If you cannot be with them and have to phone, ensure that they have someone they trust close to them that will allow them the space to deal with the news and provide the comfort they need.
Before you share the news, ensure that they are sitting down. Don't delay telling them as they will pick up that something has happened. Then, start the conversation by preparing them for the bad news, "Unfortunately, I have some bad news. John has died." Avoid using other expressions that might cause confusion, such as "We lost John" or "John has passed." These euphemisms may cause misunderstandings, especially with children. Keep your language clear, compassionate and simple.
Once they receive the news, it is best to remain quiet to give them the space to process the information or just in case you say the wrong thing. Everyone reacts differently. Some people want their own space to deal with the news; others want comfort, and in very traumatic circumstances, some will be distraught, confused or even angry. A wide range of emotions may present themselves.
Breaking the news to extended family and close friends
Once the news has been passed to the closest family members, the next step is to let other extended family members and close friends know as soon as possible. Unfortunately, nowadays, it is a race against social media and not an ideal way for the family to find out.
It is better to phone than send a message by text. However, if you find it overwhelming, ask one extended family member to pass the message on to the rest of the family and a close friend to let close friends know.
Once you have the funeral arrangements, set up an online chat group with close family and friends. Ask them to share it with other people who knew your loved one.
Informing the friends and your community
The death of your loved one will naturally get out to the larger community. However, it is important to let the wider community know about the funeral or memorial service.
Nowadays, most people put up announcements on their personal Facebook page and Facebook community groups. However, some of your friends or colleagues might not be on Facebook, so cover all bases like newspapers and if you live in a rural community, put it on the community notice board.
Get in touch with a celebrant
Get in touch with a Member of Celebrants Aotearoa for advice about planning a funeral ceremony to honour the person you've lost. A celebrant performs funerals and will listen with empathy to create a ceremony that will reflect your family's wishes. Celebrants work closely with funeral directors, some provide independent funeral and memorial services as well.