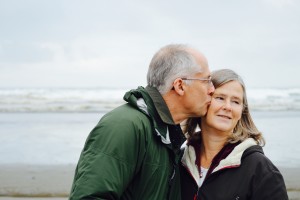 A vow renewal ceremony is the perfect time to celebrate a milestone in your marriage. No matter if you've spent 2, 5, 10, 25 or 50 years together, a vow renewal ceremony is an opportunity to celebrate your wedding all over again, while reaffirming your commitment to each other once more.
Read on to find out all you need to know about vow renewal ceremonies, including when to plan one, who officiates, where it should be held, and who to invite.
How Soon Can You Renew Your Vows?
You can renew your vows at any time after your wedding. Some couples choose to renew their vows each year, while others save it for a milestone anniversary or special occasion. Whatever you decide to do is perfect, but here are some suggestions of when the time may be right for you to renew your wedding vows:
A milestone anniversary – just like celebrating an important birthday, mark this significant date with a special celebration.
An important reason – couples who've gone through some tough times together often choose to renew their vows as a reaffirmation of their commitment to each other.
A second chance – sometimes a wedding day is fraught with tension and a vow renewal is a second chance to have a ceremony that is more relaxed and enjoyable. You may also want your children to take part if they weren't at your first ceremony.
Who Officiates A Wedding Vow Renewal Ceremony?
CANZ celebrants are experienced at officiating vow renewal ceremonies and can help you create the perfect ceremony that fits your wishes. Find the right celebrant for your vow renewal ceremony right here.
Where Should A Vow Renewal Take Place?
You can renew your wedding vows just about anywhere: at your home, on the beach, in a gorgeous garden or on a mountaintop. The choices are endless. Find somewhere that resonates with you and your family, and create a vow renewal ceremony that will be remembered for years to come.
Who Should Be Invited?
You may decide to host an intimate vow renewal ceremony for close friends and family, or a huge party for your extended family and friends. Whatever you decide, plan a vow renewal ceremony that expresses your style and personality.
This is your special day: a day to exchange your vows and express how far you've both come in your relationship. Choose the right celebrant to facilitate your ceremony, someone who will bring your friends and family together in this special day of celebration.