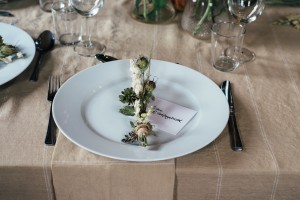 When someone we love dies, it's natural to want to hold onto a tangible memory; to fill that gap, often the chasm, that they've left behind. A memorial can help ensure the person you've lost is remembered well into the future. Here are some ways to create a memorial that acts as a reminder of the special person you've lost.
Keep something special of theirs with you always
Holding onto an item of sentimental value is a very personal way in which to keep close the memories of the person you've lost. Some people have found comfort in crafting pillows or quilts out of well-loved and often-worn shirts. Others have repurposed wedding dresses into christening gowns for the next generation of family members. Reusing items that were worn or held special meaning to the person that has passed on, can help those left behind feel close to the person who used the items.
Support a cause they loved
Doing something to help others is a wonderful way to memorialise the person you've lost. Find meaning in causes that are close to your heart or to the person who died, by continuing to pledge support in their name. Keep those special memories alive for you and others with a scholarship, sponsorship, gift or donation, or an event dedicated to their memory; all ways to show support and memorialise your loved one.
Create a living memorial
A lasting memorial that children and grandchildren will visit for years to come is a living reminder of the person you've lost. It can also be a place for you to go to sit quietly and feel close to that person. A way to hold onto precious memories. You could plant a tree, a flower or even a whole garden in their memory. You'll find a few other ideas for living memorials in this recent blog on our website.
Start a new tradition
When you lose someone, holidays and special events that you used to share together, are not the same. Creating new traditions and rituals can provide meaning and lasting ways to remember a loved one, by allowing that person to play an ongoing part of holiday celebrations into the future.
A special song played in your loved one's memory. A time of reflection by going through old photographs. Lighting a candle. A moment of silence. An extra plate at the dinner table. These traditions will continue year after year, helping you focus on the memories of the person you've lost during these special times of the year.
Memorialise your loved one
You may wish to memorialise someone close to you who has died, with a special ceremony. A time of sharing memories with friends and family. If you'd like to find out more about planning a memorial ceremony for a loved one, get in touch with CANZ today to find a celebrant who can help you plan this special ceremony.