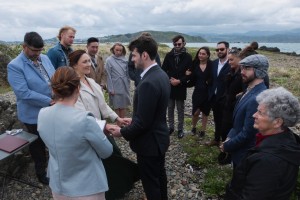 Just inviting a few family and friends to your marriage ceremony can make for a more intimate and memorable occasion. It allows you to share your special moments with those who count the most.
But most importantly, it removes the pressure of standing in front of a large group of guests - allowing you and your partner to be more present as you share your love and commitment for each other.
Removing the stress of having to plan for a bigger wedding, allows you to focus on creating a more meaningful ceremony.
Choose your guests wisely.
Cutting down can be tricky. Invite friends and family who matter, like your besties, parents and siblings. If you find it hard, think about who is in touch with you regularly, who you are comfortable with when sharing your intimate marriage vows.
Location, location, location
As you only have a handful of guests, you can get married in more intimate spaces: in a garden, a beautiful park, by a lake, by the sea, at a fabulous lodge or on a mountain top. The best setting is a place that holds meaning to you and your partner, even if it is your folks's backyard.
Keep it intimate.
Keeping your guest list to those you feel comfortable with allows you to express your true feelings for your partner, especially when writing your marriage vows.
"I ask them to strip it all right back to basics: what is it they first fell in love with? What are some of the best parts of the relationship that they have nurtured? It grounds them not only in thinking about what they would like to share about them on their day, but also how they might like to shape their vows."
Celebrant from Celebrants Aotearoa
Personal touches
With such a small guest list, it is easier to add personal touches. You can personalise invites, give all your guests a role in the ceremony and gift them something unique.
Slow it down
This is your day. Don't rush it. Slow it down to savour every moment of it. Relax into it, and you will enjoy it more too.
Keep it simple.
Keeping things simple will keep your planning easier and less stressful. To be surrounded by the most important people in your life as you share your vows with the person you love is all you need. The frills will be forgotten, but the shared moments will be treasured.
"Some couples get caught up in the dream-like concept of a wedding, rather than keeping it simple and acknowledge it for what it is: the binding of their past and their future and everything they have built during their time together"
Celebrant from Celebrants Aotearoa
Book Your Celebrant
A marriage celebrant plays an integral role in your special day, no matter how big or small your wedding is. Their ceremony skill and warmth sets the tone for your wedding which will segue beautifully into the celebrations to follow.
Contact a celebrant from Celebrants Aotearoa to help you plan a small ceremony that allows you to incorporate your personality and style to create a truly memorable day.
With thanks to the following to the use of their photo:
Bride and groom: Dylan and Judith Ewens-Belin
Photographer: Katinka Kleppe aknitak.k@gmail.com