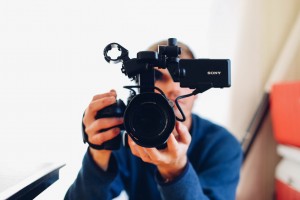 Sometimes distance or illness gets in the way of you sharing important ceremonies with family and friends. But just because they can't be there with you in person, doesn't mean they need to miss out.
Welcome to the world of digital, where livestreaming is fast becoming a way of including family and friends who may be separated by distance. All you need is a webcam (mobile phone or tablet), a decent internet connection and a livestream platform.
If you are considering livestreaming an important ceremony, here's a closer look at some of the common livestreaming platforms, and a few tips on getting set up.
Common livestreaming platforms
Most people choose to livestream using Facebook Live, Instagram TV or You Tube Live.
Facebook Live is one of easiest platforms to use and is free to any number of participants. During your livestream, people will be able to react and comment, and you can write replies to comments or respond to them in your streaming broadcast.

If you're live streaming to your timeline, you'll also be able to choose your audience, and when your livestream has ended, your video will remain where you shared it as a video post.

Creating a Private Facebook Group for your event and inviting your online guests to the group, then selecting to only go live for your private group is a great way to ensure only those invited get to see your livestream. Read more about Facebook Live here.

To livestream using You Tube, your channel will need to have at least 1,000 subscribers and you'll need to have a verified You Tube account. You can choose to livestream using your mobile, a webcam or an encoder.

Just like Facebook Live, You Tube Live is free for unlimited viewers and you can stream in a single video for up to 12 hours. You can find more information about You Tube Live here.
Instragram Live is much like Facebook Live with the additional option of adding your video livestream to IGTV.
Getting set up
Keep in mind that video livestreams use a lot of data so ideally you want to be connected to a stable wifi connection with unlimited data.
Consider using a tripod instead of holding the camera to get a much clearer – and less shaky – picture.
Do a sound check and use a microphone if your event is outdoors, to ensure the sound quality on the livestream is clear and that any background noise is limited.
Check who is invited to the livestream and send login details or an invite to the livestream to guests joining online.
Be respectful of your venue's privacy policies when it comes to sharing livestream videos, and always do a pre-event test to ensure things run smoothly on the day.
It pays to have someone tech-savvy responsible for managing the livestream on the day.
Go live with your livestream at least 10 minutes before the ceremony starts to allow your virtual guests time to login and get connected.
Working with CANZ celebrants
At CANZ, many of our celebrants are already experienced at livestreaming ceremonies like weddings and funerals. Thanks to livestreaming, many ceremonies that would otherwise have been cancelled in 2020, have been able to proceed, despite guests not being able to travel. Find out more about CANZ celebrants and the types of ceremonies celebrants can officiate, by visiting our website or by connecting with us on Facebook, Instagram and LinkedIn.