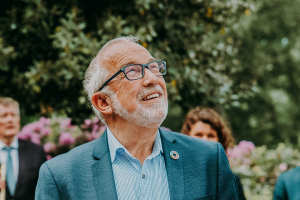 How To Include Missing Family & Friends In Your Wedding Day
Your wedding day is one of the happiest days of your life, but sometimes, with the happiness comes the ultimate lows of having to experience such joy without your special friends or family there to see it.
Whether it's because of age, distance, or loss; missing family and friends on your special day can be devastating, but there are plenty of ways you can include them in your marriage ceremony. Getting creative and including them in your marriage ceremony is a great way to still feel connected to those who can't be there.
We've put together a list of ways you can include them, curated from our talented celebrants.
A Reading/Poem of Their Choice
An exciting way to do this, is to let your guest work directly with your celebrant and surprise you with their choice on the day. Your celebrant would be happy to read this on their behalf or you can ask another present guest to read it out on their behalf.
Live Streaming
Using live streaming is a fantastic way for missing friends and family from around the world to view your marriage ceremony live. A lot of wedding venues may already have a system in place to make this seamless and easy, but you can also ask someone to record live stream from their phone too.
Photos
Photos are such a special way to honour those that cannot be there and a visual way to include them in your marriage ceremony. You could put their photos on vacant seats or display them on a table with some special candles or flowers nearby. If you are wanting something more private, you could attach a small photo within your bouquet, or in a locket that you wear.
Personal Messages
You can ask your friends and family to write a short message sending their well wishes which can be read during your marriage ceremony, or later at your reception in place of a speech. This is a great option if the missing person would've done a speech or been a part of your ceremony too.
Give Them A Shout Out
Acknowledging the special people that are missing from your wedding day can be a great way to include them too. Your celebrant will be able to give a special mention by name and honour the fact they can't be there to celebrate with you.
Light A Candle
This is a great option, especially if your loved one has passed. The idea is that as the candle burns, you are reminded of their love, support and presence on such an important day. You can even look at adding a photo to sit beside the candle for an extra special touch.
However you choose to honour your missing family and friends, contact one of our professional celebrants from Celebrants Aotearoa to help create a truly memorable day.