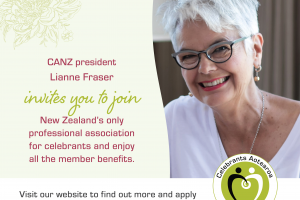 Are you a celebrant in New Zealand? Have you joined Celebrants Aotearoa?
Have you been thinking about joining Celebrants Aotearoa? We understand your desire to be the best celebrant you can be, and when you join, it's our role to help you get there. We support our members in a wide range of areas to ensure you provide your clients with the highest quality service possible.
Does Celebrants Aotearoa support all celebrants?
With over ­­­­900 members, Celebrants Aotearoa is the only nationwide professional body representing celebrants of all occasions. Regardless of what type of ceremony you perform, a Celebrants Aotearoa membership adds value to your celebrancy business.
"As a newbie, I joined Celebrants Aotearoa because I wanted to engage with others and attend local training. I wanted to be with a professional body that is recognised across the country."
Ashleigh Carlyle
So, what are some of the benefits of joining Celebrants Aotearoa?
We support professional development
We provide celebrants with ongoing professional development through your branch or national events. We also offer mentorship, discounts to courses, newsletters, a range of resources on our website and a recognised programme.
Celebrants Aotearoa promotes celebrants
We help promote celebrants as well as promoting celebrants as a professional and societal role in Aotearoa New Zealand. Members receive a complimentary listing on our website where potential clients can search for a celebrant according to the area, gender, the language needed, type of ceremony and other information. It is the go-to search for celebrants in Aotearoa New Zealand.
"Celebrants Aotearoa advocates for celebrants and provides great information and a profile for celebrants where prospective clients can find us."
Marianne Farrell
Celebrants Aotearoa encourages networking
Joining Celebrants Aotearoa is a wonderful opportunity to connect, support, share ideas and resources with other celebrants. You can network with other celebrants through your local branch and activities, private Facebook chat groups, and National events.
"I like that Celebrants Aotearoa has regular monthly meetings and is also ready to support if one has questions." Barbara Harding
Become a VCANZ accredited celebrant
Only Celebrants Aotearoa members are eligible to apply to become a VCANZ Accredited Celebrant. Once your VCANZ submission has been approved, it provides you with the opportunity to apply to officiate registry weddings. You can also use VCANZ after your name and use the VCANZ logo. This is a great way to demonstrate further your commitment to providing services of the highest professional standard.
Celebrants Aotearoa is worth it
It costs less than a few cups of coffee per month! It is fantastic value for money. Our member discounts and public liability insurance protection for members provide an immediate return on your investment. With all the other added benefits, there's no doubt about the value of joining.
Get in touch

If you have more questions to ask before submitting your application, we would love to hear from you. Please contact us on: support@celebrantsaotearoa.co.nz
Join here
Click here to join Celebrants Aotearoa