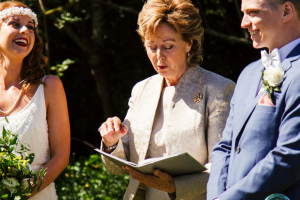 Finding the right celebrant for you
You may have been to a recent wedding and been underwhelmed with the ceremony. And you may have left thinking that was fantastic, the celebrant was great - she really pitched it well and suited the couple.
How do you find the right celebrant?
Would you prefer an Independent celebrant (non-religious) or an Organisational celebrant (usually faith based).
An independent celebrant can marry you anywhere except in a consecrated church – this would require the approval of the parish. However, many Independent celebrants, like me, are open to some form of spiritual content if requested. Nearly all couples I work with stipulate no religious reference of any kind.
Marriage celebrants in NZ are registered with the Department of Internal Affairs and are obligated to marry people from all walks of life. So couples - straight or rainbow - can marry here. This link will help locate one in your wedding location. https://celebrants.dia.govt.nz
If you know the name of a great celebrant, they'll have a current website, a Facebook page and probably Instagram. They'll have regular posts and you'll be able to message them from any of these platforms.
We also recommend you 'Find a Celebrant' on Celebrants Aotearoa NZ website. There are hundreds listed from all over NZ. https://www.celebrantsaotearoa.co.nz/
When you've found a celebrant who appeals, set up a meet and greet in person, by phone, Zoom or Facetime. You'll need to ask if they're available on your date – no point continuing if they're not.
At the first meeting be clear about what you're looking for. The celebrant should give you a guideline to costs. They may have options and should give you a formal quote. If the costing is out of your ball park then you'll need to go back to the drawing board.
A really great celebrant will come with expertise, experience and a back story of training and life skills. Their fee will be one of the smallest expenses you need to cover. I urge you to include quality in your search for a celebrant or any wedding vendor. Check out their testimonials, recommendations.
Really good celebrants get booked up months in advance. So just as you need to secure your venue and photographer early on, include nailing your celebrant.
A great celebrant discreetly multi-tasks on the day. Their antennae are up, so not only are you the centre of their attention, they will be totally aware of what's going on around you. A great celebrant has presence, charisma, can read situations quickly and adapt the ceremony seamlessly. They'll also have a sense-of-humour and keep things in perspective.
Your wedding ceremony should be memorable for all the right reasons.