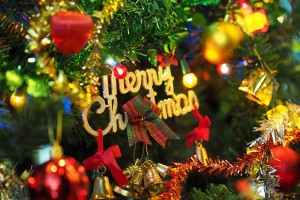 Christmas can be a difficult time of year
We all love Christmas. . . don't we?
The Western world heralds the arrival of Christmas weeks before it arrives. The build up of excitement to what's supposed to be a wonderful, happy family time – getting together to share presents, special food, games, a good book, a 'snore-off' post feast and just to be in one another's company.
Children get excited at the prospect of presents, planning a special holiday, especially in the southern hemisphere when it's summer and most people are on a long leave. And not to ignore the cosiness of a white Christmas in northern countries. Christmas traditions, where and with whom you are sharing all add to the anticipation and delight.
However, Christmas may not be so happy for everyone. So let's spare a thought for them, especially those who find it a particularly hard time.
Some may struggle for the first time, others constantly dreading the festive period.
Here are some of the reasons why:
Christmas can be expensive, particularly right now when the cost of living is so high; the fear of running up debt on credit cards; pressure from children with their 'want' list and the grocery bill.
Christmas can heighten the reality of estrangement, bereavement, mental health issues, loneliness, family conflict and stress.
Then there's Christmas pressure from the outside world: media, advertising, instore decorations and music, noise, lights, smells and long queues, work parties, shutdown or reduction of essential services and feeling overlooked. People sharing photos, videos and messages of their holiday plans on social media can add to the sense that everyone except you is having the perfect Christmas.
Speaking from my own experience, I was my worst enemy leading up to Christmas, Mrs Perfection. My expectations were to be super organised, the perfect hostess, wife and mother. Planning, shopping, decorating and maintaining the perfect home, sending Christmas cards, hosting a party or two, attending end-of-year functions and home-baking the perfect Christmas cake, shortbread, mince pies and obligatory pav, meringues, trifle and steam pudding. And Christmas lilies fragrance pervading our home plus a blooming herbaceous border with lashings of roses. By the time the big day arrived, I was "buggered", sour and simply over it. My family let me know. I'm pleased to say I've since seen the light although no compromises on 100's of fairy lights on a freshly cut pine tree.
I'm sure I'm not alone in wanting everything to be perfect. For celebrants, the lead up to Christmas is a super busy time of year. It's wedding season, so many celebrants will be officiating wedding ceremonies during December plus doing all the prep required for those weddings taking place in January. And funerals don't decide to not go ahead because it's Christmas time. Sadly, death doesn't appear to stop for Christmas. Funeral celebrants will have arranged to be on standby or not with Funeral Directors.
All too often the true Christmas story is overlooked – the gift of family – and that's what is most important of all. It doesn't matter if we're followers of Christianity, other faiths or just non-believers, the Christmas story is a universal message – love and peace to all mankind. Can we find the time to check in with someone we know is compromised. Share some love and companionship. Perhaps inviting that person to share your family Christmas Day.