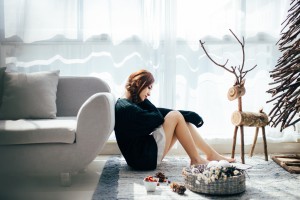 While the festive season is supposed to be the most wonderful time of the year, for those who've recently bereaved – and even those mourning years of loss - holidays can simply compound the grief felt over losing a loved one.
So just how do you celebrate important holidays – like Christmas and birthdays – when you've lost an important person in your life? For some, sticking to past traditions provides a level of comfort, while for others it's about adopting new traditions. Here are some ways that may help.
Don't place too many expectations on yourself
Sometimes we place unrealistic expectations on ourselves –assuming things to continue as they always did: the shopping, cooking, wrapping and feasting. It's the holidays, after all.
In grief, try to let go of expectations that may force you to put on a brave front and avoid your true emotions.
Some people find a holiday schedule, with as much or as little as you feel capable of doing helps them get through. Be true to yourself and realistic about what's possible.
Express your needs
When you lose someone you love, it can feel like you're carrying the burden of grief on your own. At this time of year, those near and dear to you might find it hard to talk to you about how you're feeling and the loss you're facing.
The more you express your needs and what you're feeling with family and friends, the more they will understand how to support you through this time. You might also find it eases the load to talk about the person you've lost and share memories of past holidays together.
Take time to email, text or call your friends and family over the holiday so you can get the support you need.
Consider starting new traditions
If facing your old family traditions is too hard right now, think about starting a new family tradition.
Perhaps ask your family and friends to share their favourite memory or photo, create a decoration for the Christmas tree, or play a special compilation of your loved one's favourite music.
Whatever new tradition you decide on, choose to carry it forward in the years to come to honour your loved one's memory.
Embrace the festive season
When you lose a loved one, it's easy for despair to cloud your days in darkness. This holiday season, surround yourself with those who love you – your family and friends – so you don't have to face this time on your own. Take comfort in the new holiday traditions you begin while continuing to honour your loved one. And embrace the good memories you were able to share with that person.