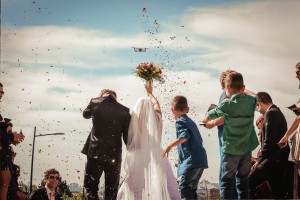 Avoiding Stress On Your Wedding Day
Your wedding day is arguably one of the most stressful days of your life. Months of planning, all coming together. The dress, the timing, walking down the aisle, speeches and vows, not to mention having all your loved ones together watching YOU get married.
Luckily, there are ways you can prepare to avoid stress on your wedding day!
Preparation!

It's so tempting to put the little things off till the very last minute, but trust us when we say… DON'T DO IT! You want to be able to relax on your wedding day, not running around last minute trying to get those little things done.


Hire a Team You Trust!

Our celebrants are so incredibly experienced and have the best tips and tricks to help your day run smoothly. Making sure everything runs smoothly throughout your ceremony, and the rest of your day can be a stressful and challenging process so hiring a team you trust; that are experienced and knowledgeable is key to a stress free day.


Let Go

Letting go of control on your wedding day is HARD especially when you've spent months planning and waiting for it all to come together, but the reality is that some things are simply out of your control. The flower girl may cry, someone may else may spill a drink. Whatever it may be, try to sit back and let your day unfold, embracing the hiccups.


Remind Yourself What Is Important

The most important thing on your wedding day is the marriage between you two. You can often spend months setting the tone for the wedding and making sure everything is perfect, but on the day, remember that the only thing that matters is you and your partner.


Be Present

Your wedding day will flash by so quickly so it's really important to take it all in, and be in the moment. Ensure you schedule in moments to sit down, and celebrate with your new husband or wife, and take in the wonderful day. There's rarely a time when all your loved ones will be present in the same room like this.


If you're looking for a marriage celebrant, we have over 1,000 experienced celebrants across New Zealand who would be honoured to be a part of your special day. You can find a celebrant here.