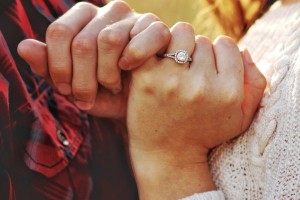 Looking for ways to reaffirm your love and commitment to each other? Maybe you're celebrating a special milestone anniversary? Or you've recently gone through some tough times together? Either way, a vow renewal ceremony is a wonderful way to express your ongoing love for each other, and perhaps celebrate with some of the other important people in your lives.
To help you plan a vow renewal ceremony with a difference, here are three ways to make the day even more memorable.
Let your artistic flair shine
The biggest difference between a vow renewal ceremony and a wedding ceremony is that a vow renewal is not a legally binding ceremony. Because you're already married, a vow renewal ceremony is really a celebration of your marriage. A chance to pat yourselves on the back for a job well done so far!
As such, vow renewal ceremonies are far more relaxed, often more intimate and less stressful than a wedding day. For many couples, a vow renewal is a chance to do things a little differently.
If you were too nervous to wear that outfit the first time round, or your budget didn't stretch that far, here's an opportunity to let your creative side shine and do things your way. There's no need to wear a wedding dress, veil or tuxedo – although it might be fun to do so! So splash out on an outfit that lets your creative flair show.
Write your own vows
Most couples use a vow renewal ceremony as an opportunity to write and express their own wedding vows, something that many didn't do the first time around. Writing your own wedding vows lets talk about your unique story and reaffirm your commitment to each other. (For help writing your wedding vows, check out this blog post on the CANZ website.)
And because the format of a vow renewal ceremony is far more relaxed, it's an ideal time to design a ceremony around the things that hold meaning for you as a couple. You could choose your favourite songs or pieces of music, special readings, or include a time to share memories or talk about some of the highlights of your marriage.
Some couples like to include symbolic rituals, like a hand-fasting or a candle ceremony. Maybe you want to plan a vow renewal ceremony in the same place you got married, or combine a destination ceremony with a family holiday. A big gathering of friends and family, or a smaller ceremony with just your immediate family. This special ceremony is yours to plan as you like.
Get the whole family involved
Vow renewal ceremonies are a wonderful opportunity to celebrate the role that multiple generations have played in supporting your marriage. You might consider including any children or other special people into your vow renewal ceremony.
Ask your parents or grandparents to share a blessing or words of wisdom. Invite younger children to be ring bearers. Light candles to remember deceased loved ones. But most of all, take this time to create new memories, relive old ones, and enjoy this special time with your family and friends.
Plan a day to remember
There are many reasons why couples plan a vow renewal ceremony. If it's something you'd like to explore, get in touch with a CANZ celebrant to find out more.