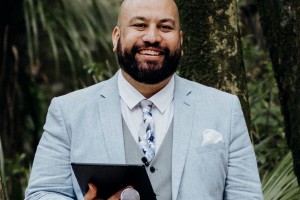 How long have you been a celebrant for?
Not very long, about three years now. I'd been M.C. for a few friend's wedding receptions, plus I did a fair amount of technical presentations for work, so I was always comfortable talking in front of people.
Why did you become a celebrant?
When my wife Leslie and I were married, we had a good friend of ours, James, M.C. our wedding reception and he did an absolutely brilliant job. A few years later, James met and got engaged to Rebecca; they thought I had the perfect personality, and they asked me, out of the blue, to be their celebrant. I thought they were going to ask me to be the best man!
I was very nervous officiating their ceremony, but thankfully it went off without a hitch. After my heart rate dropped from being very high during the ceremony, to a more healthy level post ceremony, I thought "that was actually a lot of fun, I could do more of those." After posting about Rebecca and James' wedding on Facebook, I had a bunch of other engaged friends who asked me to marry them, and it really just took off from there.
Before that moment, my wife and I had been to a lot of wedding ceremonies as guests but I'd never imagined I would ever be a celebrant.
Do you have another job besides being a celebrant?
I work in and own half of a software development company, which I started out of university, with my mate and fellow graduate, Richard. That keeps me busy on a day-to-day basis, with weddings typically on a Friday or Saturday afternoon.
What ceremonies do you perform?
Mainly three types: registry ceremonies (I'm a VCANZ celebrant), simple ceremonies (typically like a registry ceremony, but I allow them to have more than 20 guests, do their owns vows, have a photographer etc), and then the full personalised ceremonies, and I also offer to M.C. their reception too.
I'm happy to travel all over NZ (I'm central Auckland based) and I've done weddings as far north as Matakana, and as far south as the Whakapapa Ski Field. I seem to do a fair amount of weddings at venues out in Kumeu. One couple flew me to Melbourne to do a celebration of marriage, as I'd married them the year earlier, and some of their family weren't able to come to NZ because of the COVID lockdowns.
What do you enjoy about being a celebrant?
It's just ridiculous fun. I get to see the absolute best in humanity. No one turns up to a wedding in a grumpy mood. I don't think there's any job in the world where your guests are already in the mindset to have a great time, and as a celebrant, there's already that joyful momentum, and your job is just to keep that going.
Pre wedding nervousness, laughter, tears during heartfelt vows - whether my couple are in their early 20s, or in their 60s, these experiences are universal, regardless of what stage of life they are at.
What are some of the hardest parts of being a celebrant?
If the couple I'm working for are really organised, there's no hard parts. If they're not, I feel like I'm pulling teeth, constantly asking them for answers, reminding them to apply for paperwork, write vows etc etc. I've had a couple give me their vows, handwritten, on a scrunched up piece of A4 just before the ceremony (I like to have these on my tablet), and have been finishing off writing their reception just as it starts!
I'm a very organised person, so when a couple isn't, I find that really hard.
What are some of the most unique rituals or ideas you have had to do a wedding ceremony?
I always ask the couple what they do for work so try to incorporate that - if they are in teaching, I give them homework for the ceremony, like they do for their students; if one of them works in healthy and safety, during my pre instructions for the ceremony, I ask them how I've done and if I'm up to scratch.
At a wedding in Matamata recently, the couple asked me to do a handfasting. Thankfully, we practised a few times the day before, while watching a video on Youtube. The couple were super supportive as I'd told them I'd never done one before, and it went off really well.
I really like to include other family members who can do Bible readings, poems or offer a blessing - it's such a great way to include others in the ceremony, outside of having them in the bridal party.
What was the most memorable ceremony you have performed?
It would have to be the first one, for Rebecca and James. As I started, I was super nervous as there's a lot of preparation that goes into a wedding, and I didn't want to be the one disappointment for the day. I remember thinking, "don't mess this up, don't mess this up."
The season of relief and satisfaction afterwards, I'll never forget. I did a really good job, feedback from the guests was overwhelmingly positive, and Rebecca and James were so happy with the result.
What is one poem, reading or song you like to perform at a funeral or wedding ceremony?
I ask couples if there are any people who have passed away, or who are unable to travel, that they'd like me to acknowledge in the ceremony. Recently, a couple asked me that instead of just reading out names, that I read out the names and read out and dedicate the poem Feel No Guilt in Laughter (unknown author) to them as well. I've done this a few times since as it's a really nice tribute.
When did you join Celebrants Aotearoa? And what do you appreciate about the association?
I joined pretty much as soon as I became a celebrant. In my IT job, I know how important it is to have industry recognition - as a celebrant, I knew it'd need the same plus being VCANZ, it gives me an edge over other celebrants and gives my couples the assurance that I adhere to the high standards of competency that CANZ requires.
What would be your typical day as a celebrant?
The night before, I've made a rough plan of what time I need to start getting my devices ready (I use a Microsoft Surface tablet in the ceremony, with a Kindle as backup), prepare the paperwork, start getting ready, and work out what time I need to leave the house.
On the day, I like to give myself plenty of time, make breakfast, and I always try to get an hour's run or walk in, to burn off some of the pre wedding energy.
I use lists saved on my phone, so I use that to make sure I have everything, and then I pre-check this as I leave the house and pack my car. At the venue, I have another list I use to make sure I check-in with the venue, musicians, sound person, photographer and videographer.
Once the ceremony has started, it's full-on. Post ceremony, I will make sure to give the marriage licence to a pre-organised family member, snap a photo with the couple, then leave. If I'm running their reception, I work with the photographer on the group photos, and then get guests seated, and make sure I keep the reception on time. As the evening goes on, I keep checking in with the couple to make sure I can't get them more drinks or if they need help with anything. I typically leave around 9pm, just after their first dance and when the band/DJ/Spotify playlist starts.
Before I leave the venue, I check another list to make sure I have everything (nothing worse than leaving something behind and having to go back the next day to get it), and start my drive home. By this stage, I'm normally pretty tired, so it's a very slow, quiet drive home.
What advice do you have for someone new to the industry?
There's always something that you can improve on.
This year I will have officiated at 116 ceremonies since 1st January, and I fully acknowledge that I don't know everything, so I'm always asking other vendors how I'm doing, and what I can do better. Every ceremony I take, I try to improve something small. If it works, I keep it in the ceremony; if not, I try something different next time.
How do you relax after performing a ceremony?
If I'm M.C. of their reception, I will pick out a couple who are standing on their own (typically they won't know anyone at the ceremony), go up, introduce myself, and then just chat to them over a glass of wine. They typically are grateful to have someone to chat to, plus I really enjoy chatting to randoms at weddings. Also, it gives me a nice bit of breathing space before heading into the reception.
If I'm just the celebrant, I'll head home, unpack my stuff, hang up my suit and just vege out on the couch for the evening. My wife also works Saturdays, so if I am the celebrant and M.C I tend to get home late Saturday night - typically Sunday we have our couple time with brunch at our favourite cafe, and a very lazy Sunday to recover.