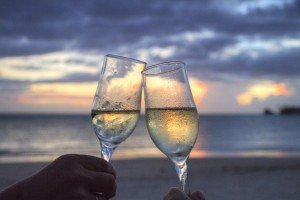 It's no secret that summer is the most popular time of the year for weddings. With the warmer weather and longer days, it's an ideal time to tie the knot with an outdoor ceremony. If you're planning a summer wedding, take a look at these essential do's and don'ts to ensure your summer wedding planning is straightforward and stress-free.
1. Do keep your cool
While summer is the perfect time to plan an outdoor wedding ceremony, it's important to keep yourself and your guests cool and hydrated during the hot summer months. Quench your guests' thirst with summery cocktails and ice cold water throughout the day. Design your menu around fresh summer produce, seasonal vegetables, and lighter grilled options instead of a heavy, hot meal. Hire a retro ice-cream van for a post-ceremony cooling treat!
2. Don't do a midday wedding
Avoid the hottest time of the day and opt for a late afternoon or early evening wedding instead. If you're going for an outdoor ceremony, choose a venue that offers some indoor seating too. Make use of the natural shade areas at your venue under trees, or arrange tables and chairs under large umbrellas.
3. Do provide heat relief
Rent air conditioning units or portable fans to keep certain parts of your venue cooler – this is especially important for the older or pregnant members of your family and friends. Provide sunscreen at each table or facial mist sprays in the bathrooms to ensure everyone stays cool and sun safe.
4. Don't leave it too late
Save-the-dates are an important part of planning a summer wedding. Many people head away for the summer holidays so to avoid disappointing family and friends who may be planning to travel over the summer holidays, get in early. Send out a save-the-date notice to let your guests know your wedding date well in advance, and get your wedding invites out early so they can lock in your wedding date.
5. Do wear light fabrics
There's no need to sacrifice style for the sake of comfort, but in the hotter months of the year, it's a good idea to think practically when it comes to choosing a wedding outfit. Light weight fabrics like silk or cotton and lighter colours win over hot, heavy fabrics, while shorter skirts, sleeveless shirts or all-out casual Jandles and shorts help you stay cool and comfortable no matter the temperature.
Book your celebrant
The summer months are a busy time for CANZ celebrants so it's a good idea to book your celebrant as soon as you can. Contact CANZ to find a celebrant in your area who can help you design your dream wedding ceremony, whatever the season you choose.