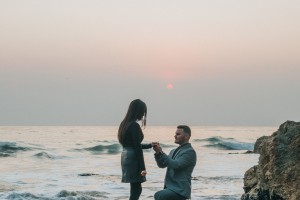 When it comes to popping that all-important question, it seems many marriage proposal ideas have already been overdone, or are simply over the top. If you're looking for a unique proposal that still has that romantic, personal touch and an element of surprise, then look no further than these five romantic proposal ideas.
Meaningful locations
Deciding where to pop the question is a big part of planning your wedding proposal. Perhaps it's the place where you first met? Or had your first date? Or even where you first said, "I love you". Whichever location you choose, propose somewhere that holds meaning for you both.
Music and poetry
If you're a little bit creative – and even if you're not – write a love song or a poem that speaks from your heart and ends in a marriage proposal. It's a cute way to surprise your partner and say the things you really want.
Champagne and flowers
It's the little details that make the biggest difference so plan a setup with red roses and an intimate table for two. Sure, the ring in a rose or ring in a glass of champagne may sound a bit cheesy, but there's something classically romantic about champagne and flowers.
Simple yet sweet
Sometimes, the simplest proposal ideas are often the sweetest. A proposal at home is perfect if you're looking for a low-key, intimate moment. Include family, children and pets so they can witness your proposal first-hand.
Special memories
A truly great marriage proposal can be hard to plan. You want to be original, but you don't want to overdo it. Every couple has a story that is unique to them; find something unique to your relationship and incorporate it into your proposal to create a truly memorable moment.
Now that you've popped the big question, it's time to start planning the perfect wedding. Start by booking your wedding celebrant.
For more tips on how to plan a wedding that's unique to you and your partner, check out the CANZ blog page.