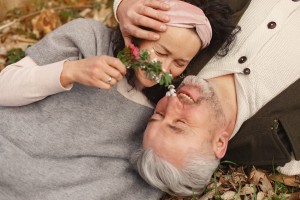 Whether you've been married for years or are newly-wed – have you thought about renewing your wedding vows?
A vow renewal ceremony is a way to express your ongoing love and commitment to each other, and to perhaps celebrate this with some of the important people in your lives.
A vow renewal ceremony, gives you the chance to once again express your love in a ceremonial setting, to reaffirm your commitment to each other and perhaps include any children too. It's something many couples find strengthens their relationship.
Here are five reasons why couples choose to renew their wedding vows.
Milestone anniversary
Making a marriage last is hard work. Whether you've made it to 5, 10 or even 20 years together, reaching a significant milestone in your marriage deserves to be celebrated.
And what better way to celebrate your milestone anniversary than to plan a vow renewal ceremony; a meaningful way to reaffirm the commitment that you made to one another all those years ago.
You may like to rewrite your own wedding vows too, so that they're more meaningful and relevant to the years you've spent together. Use these 6 tips to write your own wedding vows.
Surviving the tough times
Many couples go through a rocky patch at some point in their marriage. If you've come out of a tough time stronger than before, you may want to celebrate your love surviving with a vow renewal ceremony.
Renewing your vows can be a powerful way to reinforce that, despite the tough times, you're still together, with your vows seen as a fresh, clean start to your marriage and your future together.
Dream wedding
Sometimes your dream wedding doesn't always go to plan – perhaps finances, a wedding day crisis, or a family drama stopped you from having the wedding of your dreams.
Doing it the second time round – with a vow renewal ceremony – is a lot less stressful which means you often enjoy it more.
This is your chance to re-do your dream wedding without having to compromise, so take the time to plan a vow renewal ceremony that really fits with what you wanted the first time round.
Reassess your vows
After going through the ups and downs of marriage, certain vows you made the first time round may not be as relevant anymore. Whether that's through changing priorities or a different stage of your life, renewing your wedding vows is a chance to reinforce that your love has remained strong, no matter what has changed or what you've gone through together.
Include family and friends
Because a vow renewal ceremony isn't a legal ceremony, it's far more flexible and not as restrictive as a wedding ceremony, which many couples find more relaxing and enjoyable than the first time round.
Your vow renewal ceremony can be as serious or as lighthearted as you like, reflecting your personalities with music, readings, poetry and involving family members and friends as part of your ceremony.
To help you get started planning a vow renewal ceremony that expresses your commitment to each other, contact CANZ to find a celebrant to work with you.