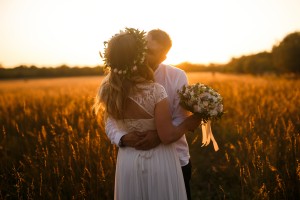 Planning a wedding – or any ceremony for that matter – means making a number of decisions. From design and colour scheme, to catering and logistics, guest lists and check lists, to music and readings.
And one of the more important decisions you'll be faced with is finding a celebrant who can create the type of ceremony you're looking for.
When you engage a CANZ celebrant to officiate at your ceremony, you're be employing someone who's passionate about creating the perfect ceremony for you. But that's not all. Take a look at these 5 good reasons to hire a CANZ celebrant.
1. A ceremony written just for you
This is your ceremony and you can make it truly unique. A CANZ celebrant will spend time with you as a couple and get to know you before crafting a personalised ceremony that reflects your personalities.
2. Include the things you want
From a special reading or a poem, to a meaningful piece of music or significant words, you choose the important things you want to include in your ceremony. Whether you want a secular ceremony or aspects that reflect your spiritual or particular religious beliefs, a CANZ celebrant can craft a ceremony unique to you.
3. Write your own vows
What better time to share with your partner your feelings from the heart? With the help of your CANZ celebrant, you could write your own wedding vows. A CANZ celebrant is flexible so you can add your own touches to the ceremony.
4. Wherever and whenever you want
Many couples choose a celebrant-led ceremony as a more relaxed and stress-free option. What's more, this type of ceremony lets you choose your venue – in your garden, on the beach or at one of your favourite spots - as a CANZ celebrant is not limited to certain venues only. You can also choose the time of day and the day of week that works best for you.
5. Committed to their profession
CANZ celebrants are not simply carrying out a job. They're working in a profession that they love. Conducting ceremonies is something they're passionate about and they're committed to providing a personalised service.
On top of that, CANZ celebrants must adhere to the association's Code of Ethics and Professional Standards, and many are committed to ongoing professional development. Backed by a strong network of fellow celebrants they can call on when needed, CANZ celebrants are well-known for their high professional standards and competency.
Find a Celebrant Today
At CANZ, we believe in meaningful ceremony from beginning to end of life. Find the right celebrant today and start planning your next ceremony.