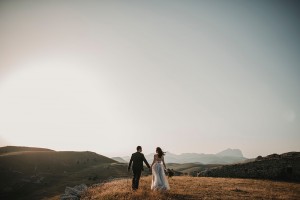 Limited sized gatherings could be around for a while and if you're planning to marry anytime soon, eloping might have some appeal right now; it's certainly one way to avoid a crowd. But it's also possible to downsize your guest list and plan an intimate winter wedding, maybe a gathering around a roaring fire, at a favourite restaurant or in the great outdoors ... provided of course you have a bad weather alternative and maybe pop in a pair of gumboots.
Here are 5 benefits to small, intimate weddings:
Fewer guests means cost efficiencies and potentially, a bigger budget to play with
More venue options; think galleries, restaurants, museums, private homes, hotel suites
Less stress! While every wedding event has elements of planning and design, with a small number of guests there more flexibility
Instead of printed invitations, you could handwrite them - and your menu too – such personal details create wonderful keepsakes.
There's always the opportunity to include people who might not be able to join you by using a social media platform or video conferencing tool such as Zoom to live stream your ceremony.
And the icing on the wedding cake is if you do choose a small winter wedding, that overcast sky casts a flattering light and one that photographers love to work in.
Whatever size or style you choose for your wedding, you need someone to officiate it. The Celebrants Association of New Zealand (CANZ) is a great place to start your research. It is New Zealand's only national professional association for celebrants and has more than 900 members.
You can search for a celebrant by location, gender preference, preferred language or, if you've had a recommendation, by name. From there you can visit their individual websites or look them up and connect on social media.
Amongst our members you'll find a perfect fit, a celebrant to make your wedding ceremony special. Our celebrants are professionals, committed to a code of ethics and dedicated to the craft of creating exceptional and personal ceremonies. Plus they have the benefit of a trusted network with experience and back up if it's needed. So at the end of the day your wedding is something you'll remember with a smile for years to come ... no matter what the size!