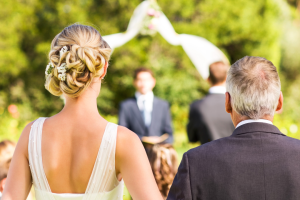 10 Aisle Song Ideas for Your Ceremony
It's often said that music is the universal love language, which is why choosing the music for your marriage ceremony can be such a daunting task. With so many options, it's important to pick a playlist that represents you as a couple – it is your day afterall.
Like a lot of parts of a wedding day, the trend seems to be moving away from the traditional elements in almost every way possible. Moving towards more unique music, introducing 'first look' photoshoots, eloping. We certainly are making the ceremonies our own.
From the traditional classics to the more modern upbeat songs; we've selected ten songs to accompany you down the aisle.
1. "Can't Help Falling in Love" — Haley Reinhart
Haley Reinhart's modern take on this Elvis Presley classic offering a sweet modern touch to a beautiful classic we all know and love.
2. "Perfect" — Ed Sheeran
There are so many moments during a wedding that could be set to Ed Sheeran's songs, with beautiful lyrics and funky tunes to match.
3. "A Thousand Years" — Christina Perri
Played both with vocals or as an instrumental, this song is sure to pull at the heart strings and is the perfect slow, modern song for when you walk down the aisle.
4. "At Last" — Etta James
This timeless love song is perfect for the aisle, first dance or anywhere in between.
5. "All of Me" — John Legend
An iconic love song by a talented artist, John Legend – and the remarkable thing about this option is that there are SO many beautiful covers from other artists if you wanted to keep the lyrics but use a unique twist.
6. "This Will Be (An Everlasting Love)" — Natalie Cole
A song for all generations and the perfect sophisticated song because it has that happy and poppy feel if you are wanting a more low-key and upbeat ceremony.
7. "Your Song" by Ellie Goulding or Elton John
Another relatively recent song that is popular in ceremonies all over the world.
8. "Isn't She Lovely?" by Stevie Wonder
You really can't get much more of a timeless classic than this Stevie Wonder hit which has a perfect combination of beautiful lyrics and a funky tune that you and your guests will love.
9. "Better Together" by Jack Johnson
Jack Johnson has recently made a bit of a comeback, and so has his songs in the wedding playlists. Better together is the perfect aisle song for those brides who are wanting something less traditional, and more of a 'dancey' feel whilst still having really meaningful lyrics.
10. "One Love" by Bob Marley
This song is perfect for a destination beach wedding or an oceanfront ceremony. Bob Marley's happy-go-lucky tune will match a laid-back tropical vibe and make you feel relaxed as you make your way down the aisle.
We hope these song suggestions are helpful when choosing something special for your marriage ceremony!