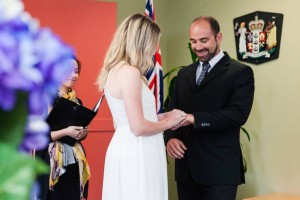 If you're after a simple, civil, legal wedding ceremony a registry wedding could be the right option for you.
Registry weddings in New Zealand can now take place at a location agreed between you and your validated marriage celebrant, rather than at your local courthouse or council office as in the past. This means that you can choose to get married at home or somewhere that holds special meaning for you, however, bear in mind that the venue should be within easy distance of the celebrant's residential address. The expectation is that the couple will travel to the celebrant just as they previously would have travelled to a courthouse or registry office.
Because registry wedding ceremonies are now officiated by validated celebrants, you have more choice and can plan a ceremony in a location near you. Read on to find out more about registry weddings in New Zealand.
What is a registry wedding?
Registry weddings in New Zealand are much smaller and simpler than personalized weddings. While you can choose the location for your registry wedding, your guest numbers are limited to 20 (which was the number previously permitted at a registry office or courthouse). You must also provide two witnesses.
Registry weddings follow a prescribed script and take around 30 minutes. These types of ceremonies are performed during office hours and only during the week – i.e. Monday to Friday. Registry weddings are not permitted on weekends or public holidays. If you want a ceremony outside of these times, and to include personal vows and other details, you need to request a personalized ceremony.
What is legally required?
To get married in New Zealand, you need to apply for a marriage licence. The cost of a marriage licence for a registry wedding is $150, and $90 for the ceremony paid to the celebrant on or before the day of the ceremony.
To apply for a marriage licence, you'll need proof of identity, as the celebrant is required to formerly identify each person getting married. The set script for this type of ceremony covers all of the legal requirements for the couple being married. The minimum number of days it takes to apply and receive your application for a registry wedding is 3 days.
You can also order your marriage certificate at the same time using the online form, which costs $33 and is normally sent to you within 1-2 weeks after the marriage has been registered.
Who would this suit?
For those wishing to marry in a hurry, with no fuss, a registry wedding is ideal. Often registry weddings suit those getting married for the second or third time, as these ceremonies are far simpler and quicker. Similarly, couples with no religious beliefs – or even those who have different religious beliefs – a registry wedding is a no-fuss and secular option.
Search our list of VCANZ celebrants who are validated and authorized to perform registry weddings in your area. All registry celebrants listed by BDM on their website when you choose the Registry wedding option, are validated by Celebrants Aotearoa through a professional development framework.

Or get in touch to find a celebrant in your region who can help you plan a more personalized wedding to suit your specific requirements.